4 Words in 1
Don't Force The Outcome
As you follow the prophetic instruction in this video, things are going to happen so fast your head will swim, one thing fast on the heels of the other.  You won't be able to keep up!
Everything will be happening at once — and everywhere you look, blessings!
Blessings like wine pouring off the mountains and hills  (Amos 9:13-15).
Watch Online
Listen Online
""Behold, the days are coming," says The LORD, "When the plowman shall overtake the reaper, and the treader of grapes him who sows seed; the mountains shall drip with sweet wine, and all the hills shall flow with it.
I will bring back the captives of My people Israel; they shall build the waste cities and inhabit them; they shall plant vineyards and drink wine from them; they shall also make gardens and eat fruit from them.
I will plant them in their land, and no longer shall they be pulled up from the land I have given them," says the Lord your God."   Amos 9:13-15.
---
Negative Repeated Cycles
I have seen this so many times, that when a person is meant to do great exploits, the enemy causes NEGATIVE REPEATED CYCLES to hinder them from operating from that LEVEL OF GREATNESS.
I perceive that some cycles are breaking from those who have been desiring to make impact but felt 'denied' and from those who have been assigned for impact but been delayed by these cycles.
I declare that every negative cycle that is hindering your advancement is breaking!
---
For Kenya and The Nations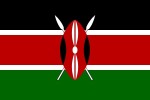 I am deeply longing and praying for the day when YOUNG MINISTERS (me included) in this nation will gather together in one room to call on the NAME OF THE LORD SINCERELY (without pretense) and without any attitude of SUPERIORITY or INFERIORITY.
I believe this is what will spark off A MOVE OF GOD IN THIS NATION.
There's POWER in this kind of gathering and that's why the enemy will never want to see it happen but I BELIEVE that by God's GRACE, it will soon happen.
---
My Prayer
My prayer for you this week is that The LORD will deliver you from all your trouble!
Remember: We are not owners of anything — not even our lives or children, we are custodians.
Shalom,
~ Esther Hadassah
Revivalist & Apostolic servant of Jesus Christ
---
Esther Hadassah is an apostolic minister and an end-time revival preacher. She has been serving in full time prophetic ministry for the past three years. The LORD has called her to preach the message of the holiness and repentance and to set the captives free.