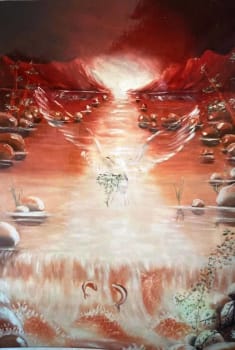 I painted this when I was 18!
I didn't know God until I was in my forties!
This painting is truth to my heart that Jesus walks with us from birth and speaks to us even when we can't hear His still small Voice.
I never knew what The Dove represented, but it is The Holy Spirit, the Dove of Peace.  He was with me as I painted this… 😊 ❤️ 🌈 💯
He knew what I was going through and ministered to my heart in healing. (Orange)
He revealed the Living Waters I could embrace and He revealed the mountains I could speak to cast down all hurts!  He was with me then and is with you now!
Listen, seek and you will find!
"Anyone who believes in Me may come and drink!  For the Scriptures declare, 'Rivers of living water will flow from his heart,'"   (John 7:38).
"Truly I tell you, if anyone says to this mountain, 'Go, throw yourself into the sea,' and does not doubt in their heart but believes that what they say will happen, it will be done for them,"   Mark 11:23.
~ Yvonne Coombs
---
Yvonne Coombs. Please also see Yvonne's Prophetic Art here at "Yvonne's Paintings" on Facebook and on Instagram @y.coombs.art.