"There are so many things today that is being presented as "Jesus" or being from Jesus.
So many ideas and thoughts, so many religious rules, so many external practices and rituals as to how we should live to please Him.
And yet, amid all of these "things" about Jesus and all that is being done in His Name to be pleasing to Him — the one thing that is truly pleasing to Him beyond all we could ever hope to accomplish for Him, is failed to be recognized most of the time!
What is that one thing?
Simply to allow Him to LIVE IN US!
To allow Him to have His Life in us and to express that Life through us!  Oh, how uncomplicated it becomes when I just allow Jesus to be Himself in me and to Life his Life in and through me, inviting me to become part of a journey beyond the horizons of what I can ever imagine it to be, beyond rules and religious order, beyond the scope of the limited ideas and ideals of mankind and of what human nature is capable to grasp or to process about its Creator and to accept as His reality, being conformed to this small part of creation where they live their daily lives as being a part of a "big world"!
How this makes me smile right now! How "big" our world may seem to us, having become our only reality, when it dwarfs into an almost non-existence when compared against the Might, the Magnitude and the Magnificence of it's Creator!
I am so excited to share "JESUS" with you!  The real Living tangible Jesus Who comes to dwell in your life and Who becomes a Living part of your life when you open the door of your life to Him, as He comes to call on you and beckons you to allow Him to become the One in Whom you will live, as He also comes to live in you!
Through this memorable reading experience I would like to introduce you to Him, and to my life, and how He came to live in me and radically influenced and transformed my earth experience, causing me to live a life beyond the realm of the mere natural existence in this world.
How Heaven became a part of my everyday life experienced on earth, and how my Heavenly Father became a Living reality in every area of my life, how what He had pre-chosen and destined for my life became my reality, as He weaved Himself and His eternal plan into every living area of my existence on earth!
It is a living love-story. It is 100% non-fiction!
Meeting the real Jesus!!

It is as real as your life that you are presently living on earth and as real as any experience you may encounter today, and yet it is filled with the substance of his miraculous life that is being felt and experienced in every living day!

It is filled with the unusual and the in-explainable — for that is who He is — marvelous and from a realm that leaves us in a state of complete wonder.
THIS LIFE of awe has become a daily living reality that has being repetitive in my life with Him, as He has chosen to be woven into everything that I am and into every area of my life and my being.
It has become LIFE in the only way I have come to know and understand to live it.
I have come to know and believe, that THIS LIFE, is the life that Jesus had promised us that we will come to live in Him as new creations by His Spirit.
As His newly created species on the earth — a God-kind of people, unknown and strangely peculiar, who are being transformed into a Life beyond earth-living.
A SUPER-natural people who had been born of His SUPER-natural Spirit, to become a part of His SUPER-natural realm of Glory, living their lives as Heavenly aliens on this earth — Sons of the Most High!
Sons who are being re-made, re-structured, re-constructed and re-newed, every day, to bring the reality of the Kingdom of Heaven to earth and to become the vessels in whom God's Supernatural Life would be showcased in lives lived in a state of being, which He calls — ABUNDANT LIFE!
This book is a living testament, a guide, a propelling agent to spark a new realm of reality in your life — the realm of living a miraculous life as you walk in the realms of a Living God!" …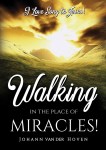 ~ Johann van der Hoven
An extract from my new Book: WALKING IN THE PLACE OF MIRACLES … coming soon!
---
Johann van der Hoven has been in service of the Lord since 1991 and has hosted numerous mass revival meetings in South Africa and abroad and is a published author.  He is the visionary of Fellowship of the Believers, host to "Eagle Food" Apostolic & Prophetic Seminars, and currently pioneers "Deeper Life" Revival School International, from South Africa where he resides.  For more info visit www.sonsofsovereignty.com