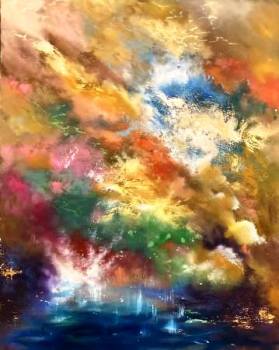 I will never put you in a box LORD, because you never put me in a box!
I know my promises and yet I do not even try to imagine how they will come, as I have learned that it will never be how I could perceive it.  God is creator after all.
I haven't been desiring to paint for several weeks and I still don't desire to.
I didn't want to finish it yet, I couldn't cover over it.
At first I wondered if something was wrong but as I have quieted myself, I have recognised that this painting represents where I am at.  I am in this place, a place that just is.  A creating place that is birthing something new.
I just feel to share and if anyone is understanding this strangely unique place, I pray you can rest in that place without condemning yourself and that you are simply still.
Let no one condemn you in this resting place also.
Only concern to what you sense The Holy Spirit is doing and speaking into you, the rest doesn't matter.
It is a waiting room to be quiet, peaceful, prayerful and ready for a change at any moment.
It is a time to simply rest in His Light, decree and believe His Word.
As He Spoke the Word that made the universe — that is always creating and expanding, He is expanding and stretching me and you.  As in a birthing room where new creation emerges — we just surrender and breathe!
It is a place that I sense God wants His Children.  It is a place to be quiet, restful and to be expectant to what is being birthed within us.
This may not be a Word, it may be a simple testimony, it doesn't matter.
I pray it resonates.
The Creation of the World
"In the beginning, God created the heavens and the earth.  The earth was without form and void, and darkness was over the face of the deep.  And the Spirit of God was hovering over the face of the waters.
  And God said, "Let there be light," and there was light.   And God saw that the light was good.  And God separated the light from the darkness.   God called the light Day, and the darkness he called Night. And there was evening and there was morning, the first day.
And God said, "Let there be an expanse in the midst of the waters, and let it separate the waters from the waters."   Genesis 1:1-6.
~ Yvonne Coombs
---
Yvonne Coombs. Please also see Yvonne's Prophetic Art here at "Yvonne's Paintings" on Facebook and on Instagram @y.coombs.art.