Prophecy Being Fulfilled in Kenya!
On the April 15, 2018 the LORD gave me this Word which I posted on my Facebook page:
"Revival has been prophesied several times in Kenya.
I have heard the sound of it, I have seen whole cities in Kenya affected by this move.
Universities coming to a standstill, because of the fear of God.
I have seen rich and poor, prostitutes, witches, gangs of robbers, drug addicts running to get born again.
I saw some leaders bringing back money they stole from Kenya.
I saw members of parliament falling on the floor of parliament and crying out to God.
Who has seen the revival that is about to break out in Kenya?
It's beyond explanation.  Waves upon waves of his Glory.
The waters of revival are boiling over Kenya.
The lid is about to break.
This could be the prayer gathering that breaks the lid.
Do not miss."
What has transpired since then.
First:
We saw the President asking for forgiveness in Parliament and also asking Raila and other opposition politicians to forgive him.
This was also done with the Deputy President.  (The Star Newspaper©)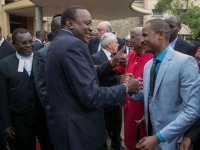 "Forgive me for not uniting you, Uhuru tells Kenyans."
Second:
Kenya has signed an agreement with Switzerland to recover back some of of our money stashed in foreign accounts as reported in Newspapers specifically the Business Daily©.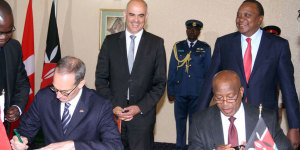 "Kenya, Switzerland ink deal to recover cash stashed abroad."
God is at work!
~ Julius Suubi
---
Julius Suubi on HKP of Highway of Holiness Ministries International