Prophetic Word on Dutch Boycott of Israel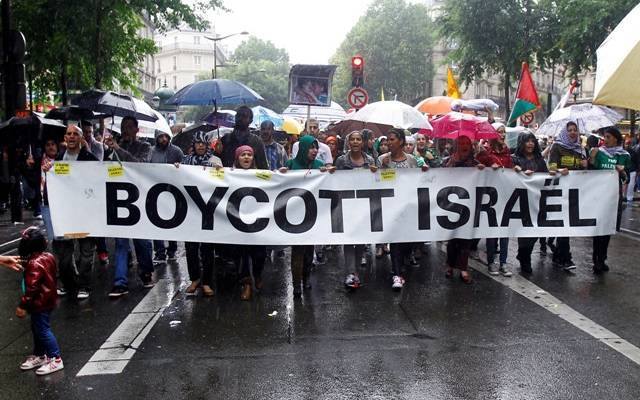 Background:"Calls to boycott Israel are covered by the right to free speech, Dutch Foreign Minister Bert Koenders has announced, upholding the Boycott, Sanctions and Divestment (BDS) Movement's right to operate in Netherlands despite Israel's objections.
"Statements or meetings concerning BDS are protected by freedom of expression and freedom of assembly, as enshrined in the Dutch Constitution and the European Convention on Human Rights," Koenders said during a debate on the Israeli-Palestinian conflict at the Dutch parliament's Foreign Affairs Committee in The Hague….
The foreign minister stressed that his government still opposes any boycott against Israel, but that support for the BDS movement is a free speech issue and so is legal in the Netherlands.
His words were echoed by the Dutch Ambassador to Israel Gilles Beschoor Plug, who also said the government's latest decision doesn't reflect any change in its policy towards Israel, adding that the Netherlands doesn't support BDS." © RT.com.
Earlier this morning I wondered how the Netherlands will respond to the boycott of Israel. I know now. My response:
"I will make Yerushalayim a cup that will stagger the surrounding peoples. Even Y'hudah will be caught up in the siege against Yerushalayim.
When that day comes, I will make Yerushalayim a heavy stone for all the peoples. All who try to lift it will hurt themselves, and all the earth's nations will be massed against her." Zechariah 12: 2-3
"When that day comes, ADONAI will defend those living in Yerushalayim. On that day, even someone who stumbles will be like David; and the house of David will be like God, like the angel of ADONAI before them.
"When that day comes, I will seek to destroy all nations attacking Yerushalayim; and I will pour out on the house of David and on those living in Yerushalayim a spirit of grace and prayer; and they will look to me, whom they pierced."Zechariah 12:8-10.
See Prophecy given 2011
"Twice now, I could not catch my breath! The 1st time it happened (some weeks ago) the LORD made it clear it was prophetic! Israel is in deep trouble.
The second time was just a view minutes back. Out of the blue, I felt like choking! The LORD told me:
"It will seem that Israel will get help, but it is a false thing! I AM waiting, saith the LORD, I AM waiting for My people to cry out to me! Even though they do not recognize Me as the son, as their Jewish messiah, they can cry out for Me.
They cannot hide their roots. They cannot hide from me. I AM is still here! I love My people, but they must expect it from me!
I will show the world that I AM does not slumber and does not sleep.
Listen to Me and then, Pray, Pray, Pray and again listen to Me so you can pray prophetically! For My words will never return in vain, saith the LORD.
I also warn those who love My land in a romantic way! As soon as it can cost you your life, you won't support My land and My people, saith the LORD!
So return to me, with all that you have, and all that you are, and all of your heart, before you pray for My land and My people!
I need the pure of heart, who can be My voice! I will honour their prayers, because they only repeat what I AM saying and My word will not come back in vain!
Comfort My people not with your own fire. It is profane fire in My eyes, saith the LORD! Come to me and I will circumcise your heart (deeper or even for the second time).
Then I can speak through your mouth and you can truly be a watchman on the wall! I need you, My people, I need you and My land needs you, saith the LORD.
Only those who let me be their all-in-all, only those who let me circumcise their hearts, only those who deeply die to self and their own ambitions, can stand in the days to come!
People whom I do not send, cry out there is peace, peace, where there is no peace. These people honour Me with their lips but not with their hearts!
Turn back to Me! Trust only Me! Not your plans, not your solutions, not your politician. No, turn your hearts on Me! For I AM who I AM, and I never changed! Saith the LORD
"Wherefore the LORD said, forasmuch as this people draw near me with their mouth, and with their lips do honour me, but have removed their heart far from me, and their fear toward me is taught by the precept of men,"Isaiah 29:13.
(repost out of 2011).
Blessings and Shalom over you!
~ Mamme Devorah
Called by Yeshua by the will of the God of Abraham, Isaac and Jacob.
"Adversity is the spark that lights the matches, to glow the fire of self-confidence," Catharina Schouten.
---
Catharina Schouten–Meijer (Mamme Devorah) is the founder of Dezerto Floro Foundation – Desert Flower. Blossoming despite hardship! She encourages, inspires, teaches, and is training and equipping people. She goes wherever the Father is sending her! She is sent in the Biblical way. In 1995 the Holy Spirit set her apart, for the work to which He has called her. Pastor Hendrik – Jan van Mourik – Restoration Church – in the Netherlands, sent her in the apostolic and prophetic ministry in 2006. Rev. Paul van Beek God's Outreach Ministry Int. sent her in the Deborah call in 2011. Ministry mandate: Isaiah 45 Deliverance, Rebuilding, Restoration.