Should I Ask God for a Sign?
How confident do you feel when it comes to hearing God?
Do you hear from God only sometimes, much of the time, all the time … or maybe you're not even sure if you've ever heard God at all?
God is speaking all the time, but we often miss what He is saying, or we overcomplicate things.  But the good news is hearing the voice of God does not have to be difficult — especially when we recognize the ways He can speak to us.
Do any of these common situations sound familiar to you?
You have to make a major decision concerning your future and need answers.
You need specific direction for your next step in life and are desperate for help.
You need to know everything is going to be okay and want assurance for the future.
You need to know for sure if you should make a certain choice.
You are looking for a sign from God that you're on the right track.
We've all been there.  Every single one of us has had moments of desperation where we needed to hear God and hear clearly — now.
God wants to hear from you as badly as you want to hear from Him.  He loves connecting with you and encouraging you!
The most effective way we can begin hearing God is by asking Him to reveal to us what He wants to say.
The sign I got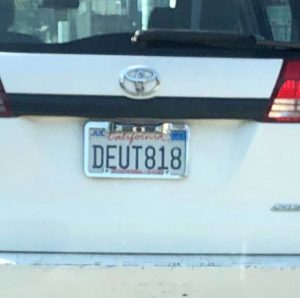 Here's one example of how God spoke to me just the other day.
While stuck in traffic, I was praying and asking God to show me a sign.  I looked up and saw a license plate: DEUT818.
I already knew that verse in the Bible, and I knew exactly what the Lord was trying to say to me.
"But remember the Lord your God, for it is he who gives you the ability to produce wealth, and so confirms his covenant, which he swore to your ancestors, as it is today,"   Deuteronomy 8:18 NIV.
Some people may write this experience off as a major coincidence, but that's what hearing God often feels like — a coincidence!  We forget that we can find God anywhere and everywhere we look.
But we must have eyes that search for God in everyday life — and know how to recognize the signs He's giving us.
Start today with these steps
Ask yourself, right now, what you need to hear God for.  Write down your request and ask God to speak to you.
Now, keep your eyes open for anything out of the ordinary or even ordinary sights, signs and sounds to become extraordinary!
When you ask God to speak to you — with the expectation that He will — you begin to hear God more clearly and effectively than ever before.
Get expectant and watch as God begins to speak to you in a new way! I'd love to hear what happens as you practice this.
Blessings,
~ Doug Addison
P.S.  Want to get my Daily Prophetic Word?    Sign up here with your email address and I'll send it to you so you don't miss a single one.
Want to hear more on these prophetic words for the month?   of my recent Spirit Connection webcasts.  Join me and my team for this FREE webcast on the first Wednesday of every month at 6 p.m. Pacific Time.
---
Doug Addison is a prominent conference speaker captivating audiences with clean stand-up comedy and high energy prophetic messages, also shared on TV, radio and the Internet for over a decade.  He brings laughter, fun and a unique prophetic style while empowering people to transform their lives, discover their destiny and understand dreams, tattoos and piercings. His powerful messages stay with his audiences long after hearing him.