2 Words in 1
A Prophecy
Today I prophesy over you that your days of distress are ended. You will step out of your cave and you will take a stand.
You will no longer hide from people feeling ugly or stupid or less than them.
Today, you look in the mirror and declare what the LORD declares over you!
And you speak with a loud voice:
I am the child of the holy one of Israel.
I am the head, not the tail, for he who lives in me is so much more….
I can do all things for He is my protector and I am death to self. He will carry me in his arms and he will fulfill the plan he had for my life even before I was born.
I declare and decree doors will open divine connections will come.
Provision is available. Anointing is here and the glory will come over you!
You will speak his truth without being ashamed.
You will bring people into his kingdom. Those who hated you will come and ask to go with you, because they see God in you! They will serve Him by serving you!
Your days of sadness are over today is a new day and new beginnings! You will arise and shine for his light came over you!
It came as soon as you stepped out of your cave in Yeshua's name (Jesus) amen!
---
Take a Stand for Jesus!
Use your anointed mouth and take a stand! Let's take a stand together!
The things that happen right now in the world and in our lives have one thing in common. Satan is attacking God's Word and people. But we must not talk about the attacks. We must use our anointed mouth to declare war!
First of all, be honest with yourself! If you want to stand for God's truth, you need to come out of the closet!
Many out here are double minded! I have stood for His truth from the moment I became His child and I have been attacked for it many, many times!
The LORD himself made it clear to someone who does not even know me or my past, He spoke to her and made it clear it has been beyond outrageous. But I know I have been honest in my process of dying to self. I told in the open what I did wrong and where I had to repent of!
When I ministered in a Church, I often started the message with: "Do not worry, I will judge you. I have been here myself." Brothers and sisters have treated me harshly.
Many years ago, I almost died because my appendix burst and the doctors did not believe my story about me having excruciating pain. So they said I had to take aspirin and that was it! I walked around with a crushed appendix for 4 days and then I broke down. So I was admitted in hospital were everything went wrong and then God stepped in and healed me!
On Facebook they talked bad about me, to the point that they accused me not to be of God but of Satan. And that it was my own fault what happened. Klarine send out messages on my behalf. Not one card, not one blessing, not one single word of brotherly love!
The day I left the hospital the phone rang. Someone needed deliverance and counseling and said: " I heard you are back from hospital. Good! My wife and I need help when can we come?" Not one word of care and love for me.
I am back on Facebook after a long period of rest. I know many are reading the post in secret, because they do not dare to make a stand! If something happens in Russia or something happens in one's family, I am the blame! There is always at least one who attacks the view friendships I have.
But I stand and I always have! The LORD told me in 2005 that this would come and I know it has been a powerful tool in his hands to kill my flesh! Being crucified by own brothers and sisters works the fast!
But I need to warn today! It is high time to make a choice.
We, as children from the holy one of Israel, need to make a stand! War is going on Satan attacks sons and fathers mothers and daughters, husbands and wives, friendships, Israel, but we must take a stand!
The Elijah anointing will reconcile, but we must stand for truth! Not double standards, not double tongued, not saying one thing and doing the other!
I know God called me in my mother's womb, and I payed the costs all of my life! I cannot count how many times I have been near death and how God saved me again and again and again!
The rejection hatred and so on. Being without a place to stay. Seeing my belongings being set on fire. Ironically, with my roots, the ones who did it, were German!
But anyway, it has been deep hard and scary sometimes! But I learned to stand! I believe with all of my heart in the holy one of Israel the great I AM.
I will speak his truth till my last breath! If you want to receive his healing or deliverance or miracle and above all his truth you cannot be ashamed of me. Receive those I send as if you receive me Yeshua says!
The same is for your situation at home.
The fight with your child or husband: Whom do not believe? Your colleges at your job; the neighbors; Satan is attacking. Yes. But you must stand! Hiding yourself won't work!
Yeshua says, "If anyone is ashamed of Me, I will be ashamed of you!"
Make a choice today stand for Israel, stand for the Jewish Moshiach, stand for His truth, stand for His servant leaders.
Yes we will work shoulder by shoulder, but He will use leaders in His army! Stand and do not be ashamed of those to whom He gives a task. You want the blessing, you curse the sender?
I received in the many years of being in ministry, emails from believers where they cursed me in the name of Yeshua! Drop dead…. I'll die in a harsh way! I forgave and blessed them.
One time someone came to the house and I knew he talked badly about me, but he came for deliverance. He walked through our house and he stood still before a photo out of Israel it is a tree in the garden of Gethsemane. He looked and looked and finally said: "I see the devil in this painting"
I went upstairs and begged the LORD to remove him out of my house. I said I cannot do this. Abba said, yes, I can so go downstairs and I will do this and you will follow me! He received deliverance and I was deeper set free of trying to please people!
Now today, make a stand if you believe you embrace those who do the will of the Father, for they are your family.
If you believe, you do not allow people to mock your LORD in your house.
If your child chooses to walk away from Him, you give them a choice, but you make a stand and you clean your house!

No pollution in your own place! No idols, no water, in His precious wine!

If you follow him and you are seeing Him at work in a servant of the LORD, you stand for it instead of double minded attitude!
Bless that servant instead of cursing him or her!
Dare to admit you are blessed, healed, delivered, instead of denying it and mock it.
This is a warning, because the LORD does not accept this double minded standard anymore.
Read: His Kingdom Prophecy website and read a Word about: The last warning to those who prevent, or at least try to prevent, the chosen ones to do their work properly!
It is not out of my hand, so do not think I am the only one who warns you!
Today, I will make a stand too! I will add here what the LORD gave me for this new time and my new ministry task and walk in Abba Father.
It is in the picture I add to this message. Declare this also over yourself and take a stand for his truth his servants his land Israel and his people.
"For whoever is ashamed of me and my words in this adulterous and sinful generation, the son of man will also be ashamed of him when he comes in his father's glory with the holy angels," Mark 8:38.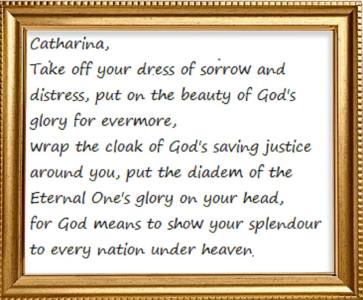 Blessings and Shalom over you!
~ Mamme Devorah
Called by Yeshua by the will of the God of Abraham, Isaac and Jacob.
"Adversity is the spark that lights the matches, to glow the fire of self-confidence," Catharina Schouten.
---
Catharina Schouten–Meijer (Mamme Devorah) is the founder of Dezerto Floro Foundation – Desert Flower. Blossoming despite hardship! She encourages, inspires, teaches, and is training and equipping people. She goes wherever the Father is sending her! She is sent in the Biblical way. In 1995 the Holy Spirit set her apart, for the work to which He has called her. Pastor Hendrik – Jan van Mourik – Restoration Church – in the Netherlands, sent her in the apostolic and prophetic ministry in 2006. Rev. Paul van Beek God's Outreach Ministry Int. sent her in the Deborah call in 2011. Ministry mandate: Isaiah 45 Deliverance, Rebuilding, Restoration.