The Torchlight Procession
The Torchlight Procession
I feel a strong urgency to re-post this vision and word again!
VISION: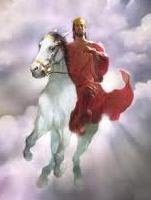 I beheld Jesus on a white horse and He held out His hand to me.
He pulled me on the back of the horse and then, in a bird's-eye view, I saw the following:
From all corners of the world people came walking along, with torches in their hands!
From all directions they came flocking in to make up a cross, starting form the point where I was allowed to watch the scene.
Then I saw angels, with pitchers in their hands.
These pitchers were poured out on the heads of the torch-bearers, resulting in a 'fat in the fire' effect.
The fire of the torches blazed up!
"It is finished!
I'm calling out MY people from all corners of the world!
When you hear the call of MY voice, you should not harden your heart.
Draw near at the sound of MY calling voice! Do not look ahead of you, nor to your sides or behind.
Come toward MY voice!
Keep your eyes focused on ME and follow ME!
I will fill you up with a fresh breeze of My Spirit, with the living water of My Word!
I Myself shall poke up the fire.
It is by trusting ME and no one else, that the Bride, My Bride, will become visible….
Walk on, walk on, follow Me, do not halt, do not look back. What will happen is up to Me.
I am going to empower you by My Spirit, I will bring about new things and only by focusing on Me will you be able to walk in it….
In Me, for Me, by Me, with Me, that's where your destiny lies…..
All you further need will follow you from that place of destiny……."
JAHWEH SABAOTH:  Lord of Hosts
Revelation 6: 1-2   "Now I saw when the Lamb opened one of the seals; and I heard one of the four living creatures saying with a voice like thunder, "Come and see."  And I looked, and behold, a white horse.  He who sat on it had a bow; and a crown was given to him, and he went out conquering and to conquer."
Isaiah 48: 6-7
"You have heard;
See all this.
And will you not declare it?
I have made you hear new things from this time,
Even hidden things, and you did not know them.
They are created now and not from the beginning;
And before this day you have not heard them,
Lest you should say, 'Of course I knew them.'"
Blessings and Shalom over you!
~ Mamme Devorah
Called by Yeshua by the will of the God of Abraham, Isaac and Jacob.
"Adversity is the spark that lights the matches, to glow the fire of self-confidence,"   Catharina Schouten.
First published on 13 December 2005
---
Catharina Schouten–Meijer (Mamme Devorah) is the founder of Dezerto Floro Foundation – Desert Flower. Blossoming despite hardship!  She encourages, inspires, teaches, and is training and equipping people.  She goes wherever the Father is sending her! She is sent in the Biblical way.  In 1995 the Holy Spirit set her apart, for the work to which He has called her.  Pastor Hendrik – Jan van Mourik – Restoration Church – in the Netherlands, sent her in the apostolic and prophetic ministry in 2006.  Rev. Paul van Beek God's Outreach Ministry Int. sent her in the Deborah call in 2011.  Ministry mandate: Isaiah 45 Deliverance, Rebuilding, Restoration.