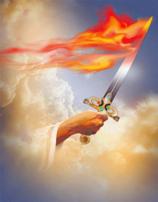 Blow you the trumpet in Zion, And sound an alarm in my holy mountain!  Let all the inhabitants of the land tremble, For the day of Yahweh comes, For it is close at hand:
On 19th August 2012 at 2.27   Thus saith the Lord:
It is not only My leaders that I need to warn!  Also My sheep must take heed, for what I Am is about to say!  Yes I am making a shift in everything that can be shaken!  I will purify and I will cleanse My Body!  I will also speak judgement over My sheep saith the Lord!  You are not only threaten each other very bad, you gossip, and treat each other sometimes in a cruel way!
Also the ones who I Am is sending with the message straight from My heart are being treated badly!  This is not how I want it says the Lord.  How can people see My love and My Kingdom if My people who are called by My Name are in disorder!  I will make an end to this saith the Lord.  I have trained and purified MY chosen vessels I am is sending them and you will receive them as if you receive Me saith the Lord.  I will bring order in My Body saith the Lord.
And those who I send will share My heart, will bring correction, and I Am is with them saith the Lord.  You are all so busy with what you think you need!  You are searching for My blessings saith the Lord, but you never give a thought for who I Am and what My plans are…  I will come back for a Bride without blemish spot and wrinkle!  I Am holy so be holy!  I Am grace but grace is that you do not need to slaughter a lamb!  I became the sacrificial Lamb for all, and I will write My law upon your hearts!
You search for gifts but I want to show you a much better way MY love for I Am the love!  How do you receive My love you say?  To come to the end of self! saith the Lord.  Today My Body is in complete disorder and the word grace is the word that is turned around and twisted like never before saith the Lord.  Your future and My plan is to have a set apart holy people!  Today My Body seems to be an organisation while it must be an organism.  Each of you must listen to My voice saith the Lord.  Each of you need to have a circumcised heart saith the Lord.
So listen, I will come with My shaking and My Body and My house will be cleansed!  I have raised a company of people who are ready to share My word and it will be like a fire and it will be like a hammer that shatters rocks!  I have raised a company of women of My daughters worldwide they are Deborah`s and I will bring them to churches and they will cleanse the water that is polluted they will speak My truth!  I will take those that I warned for such a long time  –  who are still in positions where they can influence a huge crowd but instead of sharing MY word and MY Heart they make shows for themselves and they give what the people want to hear!  –  I will remove them out of their little kingdoms saith the Lord and I will replace them for the ones that I Am has prepared for these days and this time!
People can not listen to My word anymore, they only want to hear a message that will tickle their ears, but those who I have trained will open their mouths and they will speak MY word saith the Lord.  My house must be cleansed my judgement will begin in My own house saith the Lord!
1 Corinthians 12:27-31   "Together you are the body of Christ. Each one of you is part of his body. First, God chose some people to be apostles and prophets and teachers for the church.  But he also chose some to work miracles or heal the sick or help others or be leaders or speak different kinds of languages.  Not everyone is an apostle.  Not everyone is a prophet.  Not everyone is a teacher.  Not everyone can work miracles.  Not everyone can heal the sick.  Not everyone can speak different kinds of languages.  Not everyone can tell what these languages mean.  I want you to desire the best gifts.  So I will show you a much better way."
Ezekiel 34:17-22 Judgment on the Strong Sheep   "The LORD God said to his sheep, the people of Israel: I will carefully watch each one of you to decide which ones are the strong sheep and which ones are weak.  Some of you eat the greenest grass, then trample down what's left when you finish.  Others drink clean water, then step in the water to make the rest of it muddy.  That means my other sheep have nothing fit to eat or drink.  So I, the LORD God, will separate you strong sheep from the weak.  You strong ones have used your powerful horns to chase off those that are weak,  but I will rescue them and no longer let them be mistreated. I will separate the good from the bad."
Jeremiah 23: 29   "My words are a powerful fire; they are a hammer that shatters rocks."
Hebrews 13: 17   "Obey your leaders and do what they say.  They are watching over you, and they must answer to God. So don't make them sad as they do their work. Make them happy.  Otherwise, they won't be able to help you at all."
Blessings and Shalom over you!
~ Mamme Devorah
Called by Yeshua by the will of the God of Abraham, Isaac and Jacob.
"Adversity is the spark that lights the matches, to glow the fire of self-confidence,"   Catharina Schouten.
---
Catharina Schouten–Meijer (Mamme Devorah) is the founder of Dezerto Floro Foundation – Desert Flower. Blossoming despite hardship!  She encourages, inspires, teaches, and is training and equipping people.  She goes wherever the Father is sending her! She is sent in the Biblical way.  In 1995 the Holy Spirit set her apart, for the work to which He has called her.  Pastor Hendrik – Jan van Mourik – Restoration Church – in the Netherlands, sent her in the apostolic and prophetic ministry in 2006.  Rev. Paul van Beek God's Outreach Ministry Int. sent her in the Deborah call in 2011.  Ministry mandate: Isaiah 45 Deliverance, Rebuilding, Restoration.