UK Brexit: Ongoing Prophetic Confirmations
This News Article today powerfully confirms (2) Prophetic Words I shared concerning our nation and the on-going UK Brexit situation…!!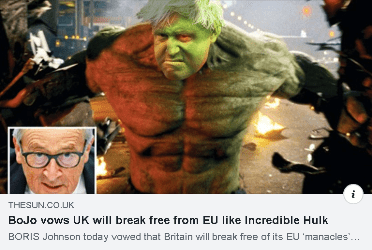 "Boris Johnson vows Britain will break free of its 'manacles' from the EU like the Incredible Hulk ahead of Brexit crunch talks!"   ©TheSun.co.uk
1)   A now Word for the body of Christ in the United Kingdom!   Samson!
©Bob Moran of The UK Telegraph mocks UK Prime Minister Boris Johnson as the modern-day Samson, pulling down the structure of British democracy on himself."
See February 9, 2019, HKP Word:  "A Word for the Body of Christ in the United Kingdom!"
2)   Honey bees coming to restore what the locusts have eaten!
See March 22, 2019, HKP Word:  "Bees of Restoration Coming to the UK"
Blessings to you all.
~ by Veronika West
---