2020 — A New Sound — Amazing Love
A New Sound!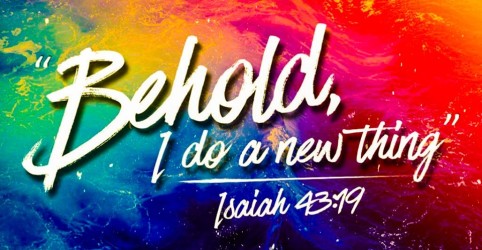 Every New Season requires a New Sound, a New Word, a New Song, A New Dimension of Power, A Fresh Revelation from Above, A New Manifestation of greater Glory.
It is the responsibility of every generation and those who are called of God to lead, to bring forth the New Sound from Heaven that will feed His people and cause them to grow into the place of victorious living in that season.
Failing to do so leaves His people starving, feeding on the left overs of yesterday's move, and yesterday's Revelation, unable to address their current need and unable to feed and nourish themselves in their present season.
We are accountable to God to bring down from Heaven to earth that which is freshly shared from the Father's table so His people may be satisfied on His present Goodness!
There are New Revelations to be unveiled. New Manifestations to be revealed. New Visions to see. New Songs to be written and New Heavenly Melodies to be composed.
We are in a New Season and Unveiling of God in the earth — It is NOW – 2020 and Beyond!
* * * * * * *
God is preparing a New Sound in the earth for 2020.
A New Sound in Word, In Revelation, In Power, In Demonstration, In Manifested Presence, In Song, In Worship, In Praise — NEW SOUND!
This is the first of a collaboration between myself and Joanne Nieuwoudt to birth God's New Sound in worship … just listen to this first rough draft and feel the Anointing and the Presence of The LORD as you do.
Let us know what you feel and think!
Amazing Love!
Amazing Love how can it be –
He chose to shed His blood for me?
Saving me from a life of brokenness and tyranny,
He drew me out of dungeons of slavery.
By grace, now crowned as royalty,
I will rule and reign with Him for eternity!
2020 — NEW SOUND!
Song written – Johann VD Hoven
Composed – Joanne Nieuwoudt
Artist – YONGSUNG KIM
FREE Download: NEW SOUND! 2020 – 29 Vision.
~ Johann van der Hoven
---
Johann van der Hoven has been in service of The LORD since 1991 and has hosted numerous mass revival meetings. The Holy Spirit is announcing a NEW SOUND from Heaven beginning in 2020 — The Sound of His Glory being poured out!
For more info please see: www.sonsofsovereignty.com