A Poignant Now Word for the USA
See UPDATE of this Word below as it comes to pass.
** * * * * *
"A new legacy of life, liberty and triumph in the White House!"
America!  Behold, God is pulling down, removing and putting to an end a legacy of lies, witchcraft and wickedness in the White House.  Watch for his redemptive power is now doing a new thing in the nation.
While driving in my car this afternoon, I was busy talking with the Holy Spirit when suddenly I saw a picture of one of the former presidents of the United States of America, 'Bill Clinton.'
I saw in the spirit his picture hanging upon a wall in a very large room in the White House, when suddenly, I saw his picture falling off the wall.  His picture came crashing to the floor with a very loud bang, the fragile glass that encased his picture within the frame, was shattered and broken into millions of pieces.
Immediately I heard the Spirit speak, "Daughter, tell the American people, behold I AM doing a new thing in this hour and season and I have started in the White House!
Watch, as My governing hand now moves to remove, pull down and put to an end the Clinton legacy in this nation and in the White House.
I will even remove their name from the lips of the people, for a new Kingdom age and a new Kingdom legacy is now coming forth!"
Warriors, keep praying, keep praising, keep decreeing and declaring a new Kingdom legacy of new life, liberty and victory is now coming forth in this nation.
** * * * * *
Update as confirmed in ©The Young Conservative's article:  "BREAKING: It's Over! Clinton Global Initiative Is Being Shut Down…" © dated  10:09 p.m. January 14, 2017
"A major arm of Clinton influence is ending.
Have a look.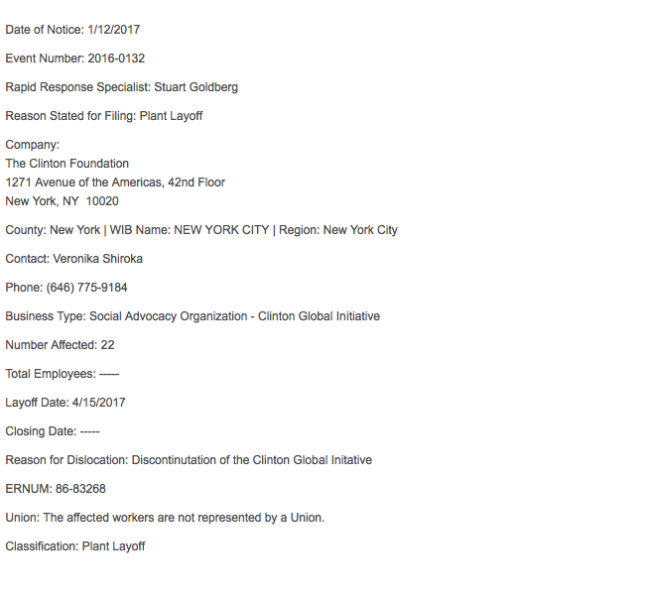 This is a notice, required under the Worker Adjustment and Retraining Notification Act (WARN Act), about pending layoffs.Clinton Global Initiative will be closing, that is the reason given for laying off 22 employees on 4/15/2017.
74 employees were previously let go at the end of December, according to other WARN filings.
What foreign government would want to donate now to someone who will not be President, who will have no power?
There have been questions raised about whether everything in the Clinton Foundation was actually in compliance with the charity laws in the state of New York.
There was also investigations regarding questions of conflicts of interest and pay-for-play that circled around the Clinton Foundation and the Clinton Global Initiative.
But it is interesting that even after Hillary Clinton lost, the Clintons are ending this influence organ.
Some are speculating that it has more to do with the investigations.
While the investigations as to Hillary Clinton's emails have apparently ended, those as to the Foundation have not."
Blessings to you all.
~ by Veronika West
---