A Vision of a Lighted Staircase
3 Words in 1
A Heavenly Vision Turning to Fire!
As I prayed I suddenly saw a vision of the heavens.
I have seen this before, and I watched as the distant stars got closer and closer. I was moving quickly through the space and being thrust into the heavenly.
Suddenly I could see the coming of a most beautiful sight. I have seen it before.
The colors were very beautiful, made up of blue and purple turning to a tinge of red. I could see some white sparkling lights withing the coming beauty. It got closer and closer until I was very close and looking right into the heavenly blue colors.
Suddenly an arm of red flames begin to move out on the right side of the blue more and more until it was a huge flame of fire coming down toward me.
Though the sight was beautiful, I could see that it was like a judging fire. There were many flames clearly seen and flickering as they shot upward.
I heard The LORD say: "I will send My Fire to burn up the dross and to clean My Floor."
I know he was talking about — a fire anointing or a pouring out of a judging fire.
The scriptures that came to mind were:
"10 and now also the axe is laid unto the root of the trees: therefore every tree which bringeth not forth good fruit is hewn down, and cast into the fire.
11 I indeed baptize you with water unto repentance. But he that cometh after me is mightier than I, whose shoes I am not worthy to bear: he shall baptize you with the holy ghost, and with fire:12 whose fan is in his hand, and he will throughly purge his floor, and gather his wheat into the garner; but he will burn up the chaff with unquenchable fire," Matthew 3:10-12.
"10 but the day of The LORD will come as a thief in the night; in the which the heavens shall pass away with a great noise, and the elements shall melt with fervent heat, the earth also and the works that are therein shall be burned up.
11 seeing then that all these things shall be dissolved, what manner of persons ought ye to be in all holy conversation and godliness, 12 looking for and hasting unto the coming of the day of god, wherein the heavens being on fire shall be dissolved, and the elements shall melt with fervent heat?" 2 Peter 3:10-12.
* * * * * * *
I have written this Word as I have seen it and understood it, therefore LORD, bring forth Your Word in Jesus' Name!
---
A Vision of a Lighted Staircase
I was praying in The Spirit when I saw what looked like a lighted staircase leading up into clouds.
The made-up picture above is not entirely what I saw, but this was as close to what I saw that I could make.
In the vision I saw streaks of red winding up into a very dark cumulus cloud. The lighted streaks were many and they wound around and twisted upward.
I could see that the streaks were really lights flashing [but they were all in a row or the actual step].
As I looked I saw that the many steps were like beckoning me to come walk up there on that lighted stair case.
At one moment I saw what appeared to be shapes of someone walking on this staircase. But they were only shadows and I couldn't tell what they looked like. They were not distinguishable.
In amazement, I looked and remembered the vision received by Jacob, recorded in the Bible as Jacob's Ladder
"10 Now Jacob went out from Beersheba and went toward Haran. 11 So he came to a certain place and stayed there all night, because the sun had set. And he took one of the stones of that place and put it at his head, and he lay down in that place to sleep. 12 Then he dreamed, and behold, a ladder was set up on the earth, and its top reached to heaven; and there the angels of God were ascending and descending on it.
13 And behold, the Lord stood above it and said: "I am the Lord God of Abraham your father and the God of Isaac; the land on which you lie I will give to you and your descendants. 14 Also your descendants shall be as the dust of the earth; you shall spread abroad to the west and the east, to the north and the south; and in you and in your seed all the families of the earth shall be blessed. 15 Behold, I am with you and will keep you wherever you go, and will bring you back to this land; for I will not leave you until I have done what I have spoken to you."
16 Then Jacob awoke from his sleep and said, "Surely the Lord is in this place, and I did not know it." 17 And he was afraid and said, "How awesome is this place! This is none other than the house of God, and this is the gate of heaven!" Genesis 28:10-17.
I have heard The LORD say several times now, "Come away with Me and let us walk together."
Now In this vision I see His pathway to the stars.
I am led to this passage of scripture [I have always been stirred to read the Song of Solomon] in this
Marvelous love story one can read of an account:
"10 My beloved spoke, and said to me: "Rise up, my love, my fair one, and come away.
11 For lo, the winter is past, the rain is over and gone.
12 The flowers appear on the earth; the time of singing has come, and the voice of the turtledove Is heard in our land.
13 The fig tree puts forth her green figs, and the vines with the tender grapes give a good smell. Rise up, my love, my fair one, and come away!
14 "O my dove, in the clefts of the rock, in the secret places of the cliff, let me see your face, let me hear your voice; for your voice is sweet, and your face is lovely," Song of Solomon 2:10-14.
I am deeply moved to say that The LORD is calling His People to come away and to have a very deep and personal relationship with Him.
He desires our love, and wants us to walk away with him and to just fellowship. The LORD is soon to call His Bride away from this world, to be with him, in a special place just built for her.
* * * * * * *
I have written this Word as I have seen it and understood it, therefore LORD, bring forth Your Word in Jesus' Name!
---
I Saw the Walls in Dark Shadows
In another vision, as I looked I saw much darkness and shadows.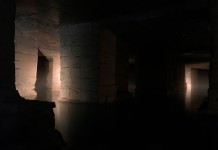 I could see nothing in that [appeared to be clouds covering something. Then the cloud did open and I saw the WALL.
It was made of blocks of stone or earth, and a very strong wall. As I looked it was as if I was walking down the wall and I saw a huge Archway Door.
It reminded me of the Arched doors in the buildings in Israel. Then I saw some window openings.
The vision only lasted for a moment.
I am still praying about what the vision was all about.
~ Desert Prophet Ken Dewey
The light will shine in His glory… In the desert.
---
Evangelist/ Prophet/ Pastor Ken Dewey is the founder of "OUT OF THE DESERT MINISTRIES" in Belen, New Mexico, USA. He writes on this Web Site, many Prophetic words, Sermons and teachings while leading people into true church settings and preaching in an End Time Gospel Ministry.
NOTICE: One of the ways you can get involved in this OUT OF THE DESERT ARMY is to become a PARTNER or to GIVE A DONATION.
We are believing God for many more Monthly Partners to stand with us in Monthly Giving and Offerings. Please send you pledge to becoming a Monthly Partner or to sow an offering into this Ground. To make a donation to OUT OF THE DESERT MINISTRIES please send to: PO BOX 223, BELEN, NEW MEXICO, our visit our Donations Page, for PayPal.