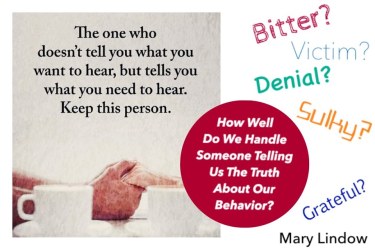 Do you ever get the feeling these days that if you tried to help someone you love escape from bad choices, bad behaviors, bad communication, bad relationships, you might be accused of judging that person?
You are not alone if you feel this way! It's a dominant mentality in our culture today.
If you or someone you know has been duped by the "you have a right to be a victim" of our modern age, here is an important insight for you my friend: "Better is open rebuke than hidden love," (Proverbs 27:5) and "Wounds from someone who loves are trustworthy, but kisses from an enemy speak volumes," (Proverbs 27:6).
Psychology is powerless to address man's deepest spiritual needs. It does not have the Holy Spirit's power to address the cancer of self absorption and self-ish-ness and then apply the healing balm of God's grace.
Psychology by itself is as unprepared to provide Christian love as I am to perform surgery on a cancer patient. When you are dealing with cancer in the body or the soul, you need a specialist.
The only Person qualified to get down to the deep issues of the sin of bitterness and self deception, which will forever keep you a victim, is God.
He often chooses to work through the loving reproof of a Christian friend or Christian minister who honors the word of God.
He can also work through a spouse, (if you will allow them to be open and truthful about this) without you using the victim roll as an excuse when they might tell you how you have hurt them with moods, false expectations and more!
God's Word brings real healing when the tools of the Great Physician are allowed to be put to work!
The "Sword of the Spirit" is the Word of God (Ephesians 6:17), and it "penetrates even to dividing soul and spirit, (Hebrews 4:12).
In other words, it cuts deep into those areas that have been ravaged by the cancer of sin. God works within our hearts to give us a hatred for our sin and a love for honest living.
Psychology is completely incapable of giving us either of those precious gifts.
Your self-image craves personal flattery, because it makes you feel good about yourself. Your "Christ-image" desires to become more Christ-like, even when that involves being told about those areas of your life that are offensive to God.
Your self-image can't handle such direct confrontation and constructive criticism, but the "real you" can more than handle it, if you are born again.
In fact, the real you hungers and thirsts to be more like Christ…. and not just to be told that your shortcomings and bad moods are the result of your upbringing and are not really your fault.
That flattery itches the ears of your self-image, but does nothing at all to help your soul advance in a life of genuine discipleship.
Once God gets your attention regarding your sin, (yeah, that's what it is ) don't be afraid to "own it."
Confess it to God…. and turn away from it…. and believe that Jesus died to pay for your sins on the cross. There is no other means of escape…. for you, or for your loved ones.
Is your love for others hidden, or is it overflowing in the power of the Holy Spirit?
Only God can equip and empower you to speak the truth in love, even when it means going into some areas that are uncomfortable to address. Surgery gets messy, but it's worth it for the sake of the patient.
Much worldly self stroking and probing Psychology has left so many people in a tied up bundle of nerves! And, it can soothe the flesh and coddle it, giving it "extra special" treatment! We need Christian love to free us…. by addressing sin and assuring every repentant sinner of God's forgiveness in Christ.
Each of us needs someone to love us that much, because each of us is more than capable of deceiving ourselves into living a life of deliberate and habitual sin.
I have a few friends in my life that tell me in love, but with courage, what I do to sabotage myself at times!
I love it and I hate it at the same time! But oh how good it is to deal with these things! So Freeing!!
If you truly believe you are incapable of ever deceiving yourself, I have some news for you my friend…. you have obviously been receiving way too much hidden love in your life.
It's time to leave your self-image behind so that you can experience Christ and His love once and for all.
His love for you and I was not hidden as He paid for our sins on the cross…. and His love will heal us if we are serious about having His image formed and developed in us.
I am so very thankful for some "tough love friends" in my life and a husband with whom I can talk out conflicts with!
He is often seeing things from an angle that I don't when I am in an emotional upset! I'm so glad he can help me re-think scenarios and situations and work through difficult conversations with me until we are both fully clear on what needs to be done or not!
I We will keep working together, growing together and always looking for the growth that comes when truth is honored, even if it hurts the ego!
Go for the gold in life my friends!
Let go of the little slights of allowing yourself to trigger over things, remaining a victim to every blowing breeze.
Allow others to have their choices and lives, and you keep focusing on becoming whole, Spirit, Soul and Body.
That's a lot to focus on, and keeps your eyes on the progress, not the upsets!
It also opens the door to more vulnerable and mature two-way dialog where not trying to win the argument or hiding from truth keeps you bitter, sulky, in denial, and stuck in a habitual victim mode.
Being grateful for those who risk telling us hard truths shows a humility that cherishes authentic relationship.
➡️ Let's Pray RIGHT NOW About This! 💓
(I like this raw and honest prayer approach from © Elder J. Johnson)
"LORD help me, I'm here!
Wrong is wrong, you're the only one I can talk to.
Trying to get over the pain is difficult and I need you.
The journey is long and i need you to restore me please.
Help me with my heart because its broken, I'm trying to work through this heartache and despair, and sometimes I get frustrated and this is my prayer LORD, "Help me, help me, help me, please! I need you!"
Give me your word and Your Wisdom to get through this resentment, bitterness, please LORD please LORD, strengthen my faith LORD in You and in Your Word.
I have to grow, I have to let this go before it kills me, take this hurt away from me in Jesus' Name. Amen."
In His Shadow,
~ Mary Lindow ©
Duplication and sharing of this writing is welcomed as long as complete message and website information for Mary Lindow is included. Thank You!
" THE MESSENGER " ~ Mary Lindow
www.marylindow.com
www.globalprayerrooms.com
---
Mary Lindow has a passion for encouraging others – all generations, careers or vocations to live expressing excellence through personal integrity, healthy accountability, and wise management of talents and skills. She's a sought after keynote, inspirational, humorous speaker and teacher across the USA and internationally in Ministers & Spiritual leaders Conferences, and training seminars for various organizations.