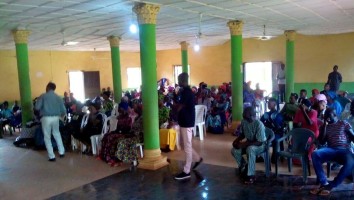 Three years ago I had a vision where a man of God (whose name I choose to withhold here) came to me in the company of 4 other elderly men, not less than 70 years of age.
I heard the voice of The LORD say to me, "Find yourself in the midst of these men!"
The next day at noon, the same vision came to me. This time I asked The LORD why I have to find myself in the company of these men.
His Words were clear to me, "This generation is leaving and there is something you need to receive from their hands to be effective in your time."
I have carefully observed that a higher percentage of genuine ministers today are in that age group.
Let's take it it a little down… Those in their 60s still have a higher percentage of genuine men.
The same in their 50s, though the numbers are not as compared to the former.
In the generation of those in their 40s, the genuine men's figure seems to be on the downside.
The 30s seems to have a higher figure of the self acclaimed and under-handed prophets who use God's people for personal gain.
We cannot even begin to talk of those in their 20s, those who are so grossly influenced by the former.
The scourge of false prophets today cannot be overemphasized. They are everywhere! They have proliferated themselves — en masse!
One begins to wonder how and why this is so. Some people have even lost hope for ever again meeting genuine men of God.
But I see a hope. The Teen generation!
We have to rush in for the harvest before these hoodlums proliferate into them.
When The LORD showed me the vision of that 5-man team who were in their 70s, I didn't fully understand in totality what He was saying. But as days went by, the vision became clearer.
These men are the beacons and their lights will soon leave the earth.
I wonder who comes after them……
~ by Mark Cyril
---
Author, teacher, motivational and conference speaker, Pastor Mark Cyril is the international President of CYRIL MARK WORLD EVANGELISM – an independent ministry taking the message of the cross across the Nations turning many in their numbers to salvation through Jesus Christ. He is also the Senior Pastor of Revelation Apostolic Community; an apostolic and Prophetic Word based ministry in Abuja the capital city of Nigeria – West Africa.