The LORD Goes Before You, Great Britain!
Passover to Crossover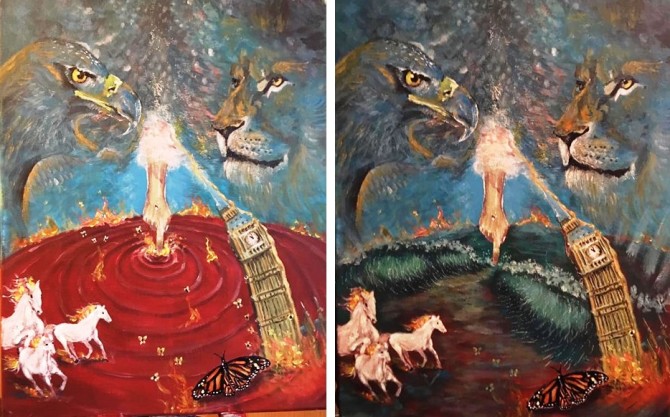 I awoke with a vision of Jesus' blood all over the earth – yet, the UK was His main focus in this particular painting as I saw Big Ben alone – and He put His finger in it and it rippled out.
I just had to start painting, but when I thought I had completed it, I couldn't see any beauty or how to explain it.
My husband asked why I had painted chocolate and I could see his point!  Then I sat back and sought The LORD and said, "I don't like the outcome, have I got this wrong?"
Then as I looked again in a prayerful focus, I was suddenly shown the vision of what I needed to do and saw the parting of the sea.
I was so excited that within half an hour, it was transformed.
The following morning I was shown the revelation of why my vision began this way and yet had to be changed, and I am in awe of God's love and patience over us, that His stirring of the blood into ripples is His way to show He has prepared this land and is preparing this world for His mercy to be revealed and the rippling has moved the people to remember Him and seek Him in a deeper way, that we as a world have become stagnant in and of His sacrifice.
He has gone before the Nation (just as he revealed by underpinning the painting with this revelation), and is going before all the Nations to stir up our remembrance of His sacrifice and to give His great Mercy and grace, so that His desires and plans come to pass!
The final piece was the parting of the waves and the message is of the United Kingdom coming out of Egypt, that the fire is revival of hearts and Big Ben is anointed with oil from heaven.
The clock shows it's the eleventh hour or close to midnight as I have painted both hands the same size and perhaps He's left us to wonder on this!
The white horses come from another Word I had released on 'Sanballat Arising', that the horses are the saints who are running wild and unafraid, that the fire on them is the Glory Carrier Commissions that shall be spread throughout.
The Monarch butterfly represents Royalty, the transformation we have been readied for and have now come into.
I painted the eagle and lion either side of the hand of God, for they represent our LORD and us, that in this time He has anointed His chosen ones who have sought His face, to a deeper level of sight and height as the eagle sees 20/20 and the roar of the lion has been heard over many months and this roar has opened the heavens toward Great Britain.
'These are the Words I was given over this painting, "Trust in Me!  I go before you Great Britain and MY WILL BE DONE!"
First published April 7, 2020
~ Yvonne Coombs
---
Yvonne Coombs. Please also see Yvonne's Prophetic Art here at "Yvonne's Paintings" on Facebook and on Instagram @y.coombs.art