Through Dark Clouds I See HIS GLORY!
The following is the description of an experience I had in prayer, early today, October 4, 2013.
I sat in the darkened room very early in the morning hours, when I began to see flashes of light which appeared far away. I saw what appeared to be a small hole in the dark and heavy black clouds. Suddenly, there was a small hole in that darkness, and through the small hole, a Flash of blue light so beautiful. Just as quickly, it did flash through it and vanished away.
I heard the Lord say, "Now you see through a glass darkly, but then will you see me face to face. Now it is like only glimpses of me, far away. Under the stairs or through the lattice, you do catch glimpses of me. Yet I am OVER HERE… come to me. I am calling you, COME AWAY…" I want to come, Lord, I cried out. I want to come! Why can I not come to your beautiful light? "You can," He spoke softly, "but you must know that you are living in a Tabernacle of Flesh and it does hold you back."
The room became dark again; not even a speck of Light. Oh how dark, miserable, having once again seen that wonderful bright light shining… Oh to be in the dark, not seeing that light! [I have had similar experiences of walking in the Spirit before this morning. But one must maintain the Spiritual walk or he will be pulled back down.]
Once again He spoke, "It is understandable when you understand you have a FLESH VEIL. It keeps you and hides you from this Spirit World; if it were not there you would be here." Feeling the words, I was moved within. I just knew how truly sick I was, at that moment, of this FLESH. My Flesh Veil, what a horrible condition.
"But the Veil has been done away," I heard him say. "You are crucified with me and the sin flesh is dead." Well why, Lord, am I still in this dark? If you have put sin to death, then why am I still held fast in this dark, even as a magnet it holds me down in this darkened world?
"It is because you must RECKON yourself dead," He said, "you must CLAIM IT, rise up and walk in the Spirit… over it. The way has been cleared, now just arise and walk in."
Again, He began to explain more, "It is not easy as long as you have Flesh Pain." What is that I asked? He answered, "The Flesh wants things and will not give in, now you must overcome those things. I have left you in that body of Flesh; it is your Flesh Veil. Even as the Old Testament Priest did enter into the Veil once a year for the people, so must YOU ENTER BEYOND THE VEIL. But you must know, that the earthly priest had to prepare himself and be sanctified by the offerings of blood sacrifice; he had to clean himself. You will have to CLEANSE YOURSELF… to walk behind the Veil!"
But you said I was Clean Lord, now you say I am not? "No," He answered, "you are Clean, in my Blood. Yet ye hold on to things the flesh wants. The earthly things are pulling you down. The Flesh is is keeping you from entering in beyond the Veil; it cannot you see, it is still yet earthly. Only Holiness can walk here in this marvelous Light. RECKON IT DEAD, PUT IT DOWN, or it will continue to pull back."
I began to do just that, and suddenly I saw the flash of light again through the hole in the black clouds. The hole was this time, even larger, and I could see the dark clouds were further apart. It was so very beautiful; Heavenly blue shades of all different hues and flashing light, flashing in the midst of that splendor. I could see what appeared to be a HEAVENLY GALAXY like I have seen in those space pictures. So beautiful was the sight. "I am over here," he said, "come closer." I felt myself very quickly drawn closer as if zooming through the air and I heard like the speed of light… "It is so far over here from where you are, you will have to travel fast."
Now looking around I could see no more Dark Clouds bordering the view, all I could see was that beautiful Heavenly Blue. But now, there were some darker blue clouds of various hues. It made me think of the shadows in a distant photo; a landscape of distant hills leading up into a far away ridge of mountains, and many different hues of blue with soft shadows. Then I saw the flash of light so bright, shining through a soft cloud. The soft cloud shone with light white, even as the clouds we see in the ordinary sky. I saw I was really there. Standing in the heavens looking at a wonderful expanse of blue heaven, and a light shining through the bright cloud, I all of a sudden saw the Galaxy lights, so wonderful it broke into full sight, bright blues to purple giving way to white sparkling light coming from within.
"I want you to come here to walk with me," He said. "I want you to desire me more than all those earthly things the flesh desires. You must know that the Flesh Veil does block you from this wonderful walk with me. Let go and let it fall off, walking free from its hindering pulling desires, walk out on those desires, desire me above all earthly desire."
Then I felt myself begin to return to the room where I had begun. I opened my eyes and the room was filled with a soft blue cloud. At once, I realized I was dizzy with a wonderful anointing. I heard him say, "When you walk with me in the Spirit this way you will bring down heavenly power, to empower you."
I am still reeling and blessed in the experience, and still full of his wonderful light.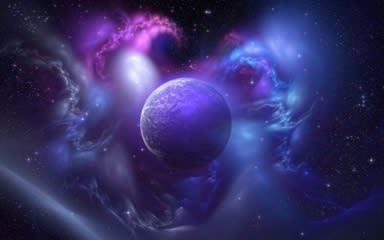 [This picture does somewhat show the colors and nature of the things I saw. The only thing missing is the Dark Clouds around the picture which would make it look like I was looking through a hole to see this picture.]
– Prophet Ken Dewey
Image sourced with thanks from author: http://best-wallpaper.net/Blue-universe-the-planet_1920x1200.html
---

Evangelist/Prophet/Pastor Ken Dewey is the founder of "OUT OF THE DESERT MINISTRIES" in Belen, New Mexico, USA. He writes on this Web Site, many Prophetic words, Sermons and teachings while leading people into true church settings and preaching in an End Time Gospel Tent Ministry.