Time to come into Unity
and Define your true Enemy!
If I were the enemy, I would do three things to win this battle. I would cause people NOT to define their enemy so that they would be in confusion and go in a wrong direction (LIKE DISARMING GOOD PEOPLE) and I would make them to believe that their God does not answer their prayers!
Then, I would get people to believe that anyone who does believe in prayer is the enemy!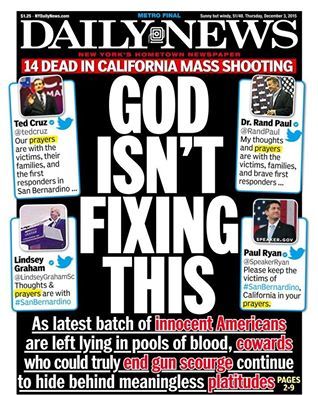 The image is a picture of the cover of "THE NEW YORK DAILY NEWS," IT IS TIME FOR THE CHURCH TO DECIDE WHO'S SIDE THEY ARE ON! But then how will they know if they don't know who their enemy is?
Church, we are not one another's enemy. We do not war against flesh and blood but against principalities and powers and rulers of darkness in the heavenlies. We are not fighting a natural battle in this time! Right now we are wrestling with the Prince of the power of Persia, who is not a God but a principality! It is the same principality that withstood Michael when Daniel prayed and fasted for 21 days. It is the same principality that wanted to change laws and times. It is trying to take our own politically correct laws and turn them against us so that we will accept it's laws.
Execute Christ's Victory!
Yes, it is time to persevere in our fasting and prayer as did Daniel. It is time to come into unity and define our enemy! This enemy wants us to think that he is God, ONLY JESUS CHRIST IS LORD! This enemy wants us to believe that he is more powerful than he is THROUGH HIS ACTS OF TERROR.
He has been defeated through the blood of Jesus, but we now are to execute that victory by decreeing what thus says the Lord! The Church of Jesus Christ has been given all authority in the earth and it is time to stop trying to figure out why this happened, define the real enemy, and then execute the victory that Jesus has already won at Calvary!
BUT YOU MUST OPEN YOUR MOUTH, STOP COWERING TO POLITICAL CORRECTNESS AND DECREE HIS WORD INTO THE EARTH,THEN GOD WILL SEND ANGEL REINFORCEMENTS TO US AND CARRY OUT HIS PLAN THAT WE HAVE SPOKEN!
"You shall also decide and decree a thing, and it shall be established for you," Job 22:28 (AMP).
"Bless (affectionately, gratefully praise) the Lord, you His angels, you mighty ones who do His commandments, hearkening to the voice of His word," Psalms 103:20 (AMP).
"Then I heard the sound of his words; and when I heard the sound of his words, I fell on my face in a deep sleep, with my face [sunk] to the ground. And behold, a hand touched me, which set me [unsteadily] upon my knees and upon the palms of my hands.
And [the angel] said to me, O Daniel, you greatly beloved man, understand the words that I speak to you and stand upright, for to you I am now sent. And while he was saying this word to me, I stood up trembling. Then he said to me, Fear not, Daniel, for from the first day that you set your mind and heart to understand and to humble yourself before your God, your words were heard, and I have come as a consequence of [and in response to] your words.
But the prince of the kingdom of Persia withstood me for twenty-one days. Then Michael, one of the chief [of the celestial] princes, came to help me, for I remained there with the kings of Persia. Now I have come to make you understand what is to befall your people in the latter days, for the vision is for [many] days yet to come,"Daniel 10:9-14 (AMP)
~ by Jo Ellen Stevens
Arise Shine!
---

Jo Ellen Stevens of TCIC Ministries is a Prophetic speaker, author, worshiper and intercessor. She has ministered with her husband for 23 years and was a worship leader at the Assembly of God for many years. She is an ordained minister (Restoration Ministries) and works with Restoration Ministries in their Ministry Rooms doing prophetic worship with her husband. She has taught many bible studies and have led many intercessory prayer groups.