UK Brexit: Prophetic Sign of Love and Compassion
Prophetic Sign: Brexit
Yet again I hear God speaking so clearly to me through the simple things yet they are so profound.
A rescue puppy called Dylin graces number 10 Downing Street [UK Prime Minister's Residence].
I believe this is a powerful prophetic sign/ "God wink".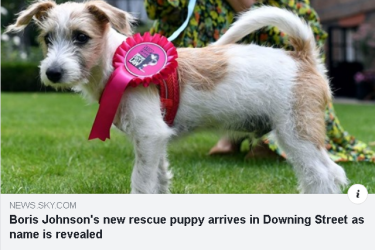 God's hand has surely taken up this nation and He has rescued us from destruction and adopted us as His sons and daughters.
His love and compassion is now extended towards and yet as undeserving as this nation is… His grace will raise us up and take us forward into victory.
Welcome to number 10, wee Dylin.
Thank you Father for yet another powerful sign of your unconditional love and grace poured out over this nation.
Dylin means: "Love and compassion extended to your fellow man…!"
Blessings to you all.
~ by Veronika West
---