UK Brexit: The Eleventh-hour Rendezvous
Confirmation:  It's being called "The Eleventh-hour Rendezvous".
A meeting between British Prime Minister Boris Johnson and Irish Prime Minister Leo Varadkar today!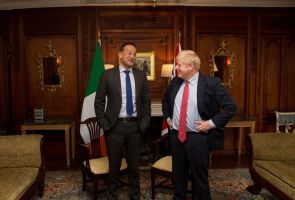 "Boris Johnson will hold talks with Leo Varadkar today in the same venue that hosted Coleen Rooney's circus-themed 21st birthday party……..  There was likely to be less of a party atmosphere on Thursday afternoon as Mr Johnson and Mr Varadkar arrived for their eleventh-hour rendezvous."
© The London Economic  Photo: Noel Mullen
See also HKP Word:  "UK Brexit: Prophetic Warning and Encouragement"
As I have been praying about this so called '11th hour meeting' today, The Spirit of God said, "Watch for a divine unraveling has begun to take place, and those who have sought to frustrate and overturn My Plans and Purposes in this land, will see that the door that they have desired to keep open, will surely be closed.
For who can keep open what I have shut?  And who can shut what I have opened?
Oh how they have conspired and colluded together to overthrow the purposes of My Kingdom in this land…
Ha!  I laugh at their scheming ways and their works of wickedness.
Watch!  As many will fall in this fall"  says The Spirit of God.
Blessings to you all.
~ by Veronika West
---