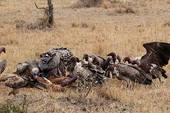 Don't jump into hasty conclusions about the pix, they are not eagles but vultures!! They look alike, soar alike but they are not the same!!!! Have a closer look at them!!!
As I was entering into the city of Owerro on the 6th of this month July, I turned to look at a poster pasted on a drum; a ll of a sudden there was a rumbling in my tummy and anger began to fuel up within me.
Then I heard the LORD say to me:
"False prophets have filled the city of Owerro".
These people are Satan's prophets and forerunners sent to clear the path of their master the devil!
Their paths are full of darkness, their desire is to feed on the ignorance of the people of God and sad to say, the churches of God are falling into their traps!
They are men and women who do not fear God, or know His ways!
They are a people without a vision!! Vision? Yes! I repeat vision!!
The difference between the true and false prophets of God lie in these words: vision & ambition!
The true prophets of God have a vision and it is to affect lives for the Kingdom, not minding for the things they may need!
The false prophets are men of great ambition: their concern is in the acquisition of material things to feed their ambition with!
They think of riding the best cars, live in the best houses, wear the most expensive dresses!
And to feed these ambitions, they go to any length even temple robbing, stealing from the people of god at their own detriment!
They have entered the sheep fold but not true the door but through the window!
And with all these mischievous attitude have exploited the Churches of God and have soiled the path for the true prophets.
But if I be an apostle called by the LORD himself, these men and their cohorts will not die natural deaths! Their deaths shall be shamefully painful!! Mark my word!!!!!!
~ by Mark Cyril
---
Author, teacher, motivational and conference speaker, Pastor Mark Cyril is the international President of CYRIL MARK WORLD EVANGELISM – an independent ministry taking the message of the cross across the Nations turning many in their numbers to salvation through Jesus Christ. He is also the Senior Pastor of Revelation Apostolic Community; an apostolic and Prophetic Word based ministry in Abuja the capital city of Nigeria – West Africa.