I am sharing with you an update on a dream and prophecy that were released between one and two years ago.
March 2018 – Prophetic Dream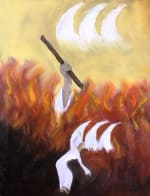 In my dream I saw a painting on a huge canvas that featured Moses' arm holding the staff.
The 3 white waves were being painted by Kathryn Kuhlman and she was wearing white and was bowing over as if to say to other prophets painting above her — "it's your move now".
I was with these other prophets creating this painting, yet Jesus wrote at the top stating, "Do you think I came for nothing?"
The painting illustrates the following aspects:
Waves of Healing
Kathryn Kuhlman bowing low to hand over to the new generation
Moses arising staff outstretched to part the sea
The fire and the yellow glory light and healing of the land of UK
There were 3 moves of the Holy Spirit (waves) between 50-70 years ago: Charismatic, Messianic and Jesus movement.  These waves of revival were powerful yet short lived.
Katherine Kuhlman was powerful in the healing ministry.  A new healing mantle is about to break forth.
The mantle of Kathryn Kuhlman is about to be resurrected amongst the body of Christ.  God's children will carry heavenly authority and fire in this new era.
Signs, miracles and wonders will mark this movement.
Those who have been refined and tested will become forerunners of this mighty move of the Holy Spirit.
This first wave will be brief to enable the church to be prepared and better equipped for the follow-on waves.  Hallelujah!
In the excitement and disruption of the first new wave,the religious church will try to stop this move because of fear and loss of control.  They will even demonise this move and try to shut it down, but to NO avail!
Jesus said, "Do you think I came for nothing?" is a rebuke to the unbelief in the Children of God.
We need to seek first The Kingdom of God by coming into the place of intimacy!
He loves us with all His heart and is disclosing His plans to show us the way through His Glory outpouring.
Do we trust Him enough to receive as a child to be used in this move?
VICTORY IS OURS, yet a suffering world needs to be shaken awake!
The scripture that I was given a year ago from Isaiah 19 speaks of plagues and as we are now presently witnessing a viral disease, I believe the Holy Spirit has revealed this is no coincidence.
It matters not where and how this virus came, as this word is about the Hope and Glory about to hit the earth.
There is a great shaking in 2020 and more to come.
We must be equipped to run ahead to pray, decree and listen for God's instruction with ever growing precision of 20/20 vision.
His peace within you will confound the world!
"In that day there will be an altar to The LORD in the heart of Egypt, and a monument to The LORD at its border. 20 It will be a sign and witness to The LORD Almighty in the land of Egypt.  When they cry out to The LORD because of their oppressors, he will send them a savior and defender, and he will rescue them. 21 So The LORD will make himself known to the Egyptians, and in that day they will acknowledge The LORD.  They will worship with sacrifices and grain offerings; they will make vows to The LORD and keep them. 22 The LORD will strike Egypt with a plague; he will strike them and heal them.  They will turn to The LORD, and he will respond to their pleas and heal them,"   Isaiah 19:19-22.
~ Yvonne Coombs
---
Yvonne Coombs. Please also see Yvonne's Prophetic Art here at "Yvonne's Paintings" on Facebook and on Instagram @y.coombs.art