2018 will be a significant year in terms of the beginning of a new era in the plans and purposes of God.
A great shaking is coming in a way and intensity that we have not seen before.
This is a good thing.  The realignment this will bring about is a good as the tares begin to be removed from the church.
This will reduce the numbers in many churches but will leave behind a church that is clean and trim free from false doctrine and ready to move on into God's purposes for this hour.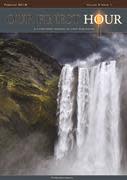 See also the articles Wheat and Tares from this edition of Our Finest Hour.
I trust you will enjoy this issue of Our Finest Hour.
Click here to download you free copy.
~ Neville Johnson ©
---

Neville Johnson – The Academy of Light.  Neville has been in full time ministry for over 40 years.  During this time he has founded two Bible schools training ministers and missionaries who are now serving the LORD in fifteen nations.  He is Director of Living Word Academy of Light in Australia.  With great effect he has preached the Gospel and taught the Word of God in over thirty nations and has ministered in countless ministers seminars around the world.  He has a burden for the lost and an apostolic calling to the nations.