If You Don't Forgive – You Don't Get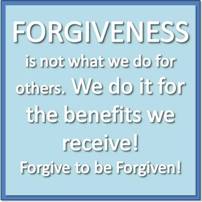 The words of Jesus on the subject of forgiveness could not be clearer or more straightforward. In Mark 11:24-26, Jesus says it all:
"Therefore I say to you, All things, whatever you ask, praying, believe that you shall receive them, and it will be to you.
And when you stand praying, if you have anything against anyone, forgive it so that also your Father in Heaven may forgive you your trespasses.
But if you do not forgive, neither will your Father in Heaven forgive your trespasses."
Jesus is telling us here in His own spoken words, "if you do not forgive, neither will your Father in Heaven forgive." He is warning us here that in essence, we reap what we sow; we get what is due us, eventually. This is not a hollow threat from God, for God does not threaten, it is a salutary promise, and what God promises, He will fulfill.
Jesus is telling is here, as elsewhere in the Bible, that if we have unforgiveness within us, we need to deal with that unforgiveness first, before approaching the Father in prayer or any other way. If we have not forgiven another person for their sins against us, similarly, our Father will not forgive us for our sins against Him.
Matthew 6:14-15 repeats the same theme:
"For if you forgive men their trespasses, your heavenly Father will also forgive you; but if you do not forgive men their trespasses, neither will your Father forgive your trespasses."
As does Luke 6:37
"Judge not, and you shall not be judged. Condemn not, and you shall not be condemned. Forgive, and you shall be forgiven."
'The Lord's Prayer' also reiterates the same theme and is prayed countless times each and every day, as in Matthew 6:12 we pray:
"Forgive us our debts as we also forgive our debtors (MKJV)" or "Forgive our sins, just as we have forgiven those who did wrong to us (ERV)."
Whichever way you translate it, the meaning is the same: forgive to be forgiven!
As you read these scriptures you need to understand the wordings used, for you may well be saying "I have never transgressed and I certainly do not owe anyone any money." Many view sin, transgression and iniquity as the same thing, but they are not. Exodus 34:7 uses them all in the same sentence saying "forgiving iniquity and transgression and sin." The Bible uses the appropriate words all the time and in the Bible there is no redundancy. To have the same three words in sequence in the same sentence, confirms that they have three clearly identifiable meanings. This short passage clearly explains the differences between the three words:
Imagine you are walking in the countryside and see your friends on the other side of a large field. You decide to cross the field to join them. As you climb over the fence on the far side of the field, you discover a sign next to you saying "No Trespassing." By crossing that field, you were guilty of trespass – a sin you committed unknowingly. You leave your friends and decide to head back to the other side of the field. However, if you walk back across the field, intentionally and knowingly ignoring the "No Trespassing" sign, you commit a sin, for you will knowingly break a law. You are now destined to live the rest of your life in guilt and iniquity, for your crime of trespass, unless you go to the Farmer and apologise and seek his forgiveness. If he forgives you your trespass, you are no longer living in iniquity.
Let us look at whole of the Exodus scripture, Exodus 34:6-7 and see how it ties into the New Testament verses quote above:
"And Jehovah passed by before him and proclaimed, Jehovah! Jehovah God, merciful and gracious, long-suffering, and abundant in goodness and truth, keeping mercy for thousands, forgiving iniquity and transgression and sin, and who will by no means clear the guilty, visiting the iniquity of fathers on the sons, and on the sons of sons, to the third and to the fourth generation."
"Forgiveness" is very important here for our Lord God Jehovah, just as it is in Mark 11:24-26 for His Son Jesus. The consequences of unforgiveness are just as stark, in Exodus, visiting iniquity, or holding them guilty and in suffering, to the third and fourth generations! And what happens when we are in iniquity? Satan has a right to claim us because we sinned against God, but not just us, but also our decedents to the third and fourth generation. Have you noticed how ungodly characteristics in a family may repeat, generation after generation? Alcoholism, divorce, molestation, wife beating, short lives, disease, etc., etc., etc.
In Paul's letter to the Corinthians, First Corinthians 27-32 he also make very clear the importance of judging ourselves and not coming to the Communion Table in an unworthy manner; in unforgiveness.
"So that whoever shall eat this bread and drink this cup of the Lord unworthily, he will be guilty of the body and blood of the Lord.
But let a man examine himself, and so let him eat of that bread and drink of that cup.
For he who eats and drinks unworthily eats and drinks condemnation to himself, not discerning the Lord's body.
For this cause many among you are weak and sickly, and many sleep.
For if we would judge ourselves, we would not be judged.
But when we are judged, we are chastened by the Lord, that we should not be condemned with the world."

Jesus spoke about unforgiveness at length in Matthew 18. In Matthew 18:21-22 Jesus starts to put the Heavenly perspective on forgiveness and unforgiveness for us, as
"Peter came up and said to him, "Lord, how often will my brother sin against me, and I forgive him? As many as seven times?"
Jesus said to him, "I do not say to you seven times, but seventy times seven."
Jesus proceeds in Matthew 18:23-35 to recount the story of the Unforgiving Servant, who, after the being forgiven by the King his debt of ten thousand talents (375 tonnes of Gold) refused to forgive a fellow servant, one hundred denarii, about 1/3 of a work's yearly wage and sent him to jail until the debt was paid off. But the servant's colleagues were not happy about this and so in Matthew 18:31-36
"When his fellow servants saw what had taken place, they were greatly distressed, and they went and reported to their master all that had taken place.
Then his master summoned him and said to him, 'You wicked servant! I forgave you all that debt because you pleaded with me. And should not you have had mercy on your fellow servant, as I had mercy on you?'
And in anger his master delivered him to the jailers, until he should pay all his debt.
So also my heavenly Father will do to every one of you, if you do not forgive your brother from your heart."
The warning which Jesus gives us is clear and explicit: forgive! If we do not forgive we will suffer at the hands of a just God, by being cast into the everlasting fire prepared for the Devil and his angels (Matthew 25:4 and many other verses).
Whether we are born-again Christians or not, the truth is the truth and the reality of God is the same. Three things come clear in the Matthew 18:31-36 story which Jesus spoke:
1 An unforgiving servant is turned over to torture,
2 An unforgiving servant is required to repay the full sum and
3 Believer or un-believer, unforgiveness is unforgiveness. It is not tolerated.
Jesus and God the Father, require that we forgive. They do not require us to forget the crime against us, or to understand the offending party. We are only required to forgive. No matter the crime or crimes against us, we MUST forgive, for forgiveness is a choice; and it is a choice we must willingly make, no matter how hard our circumstances. Once we make this choice and utter the words for forgiveness, God can and indeed will immediately start to change our lives; immediately a miraculous deep healing can and will commence. More than that, the greater the forgiveness; the greater the release of forgiveness and healing upon us.
Prophets are now telling us that the Word from God is that the "Days of Grace" are over; that the end of this age is now upon us. On which calendar date will God cease to give grace? No one knows, but why wait? God's Prophet's are doing His bidding and warning us: Get your lives in order; Soon it will be too late to repent!
Jesus and God have made it abundantly clear what will happen to those who stand before God accused of unforgiveness, and it matters not whether we have done good works or if we are pagan non-believers or born-again Christians: unforgiveness is unforgiveness. In unforgiveness, we have made a conscious choice not to forgive, and for that, the guilty will pay the consequences and be cast into the everlasting fire prepared for the Devil and his angels.
Amen.