Kenya: Pray to Avoid Calamity!
The LORD took me back to this Word and has been speaking to me about this same message over and over since October 2019.
After the loss of my Dad last week, this Word was brought back to me very strongly
(Attached are the words from 2017 & 2019 both posted in October (I did not plan the dates, so it's very profound))
I have shared with a couple of people about it as I prayed but I really feel that we ought to pray very seriously about it.
I heard The LORD say, "It will be devastating and very sorrowful. This will not be easy for your nation so you need to seriously pray."
I sense in my Spirit that The LORD is warning about a CALAMITY that is of great magnitude. (is it an earthquake? Is it an earthquake?)
This is a point where UNITY is so key. We must join hands and cry for mercy!
This kind of calamity should not strike us after The LORD has revealed to us.
Just because this part of the world is not known for TREMORS or EARTHQUAKES does not mean that they cannot happen. Things have dramatically shifted all over the world in relation to the behavior of the earth.
Kenya, let's pray about these two attached words deeply.
There is no sitting back to wait for things to happen.
The LORD reveals to redeem.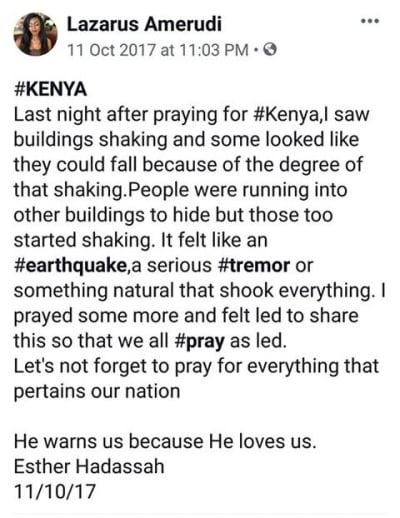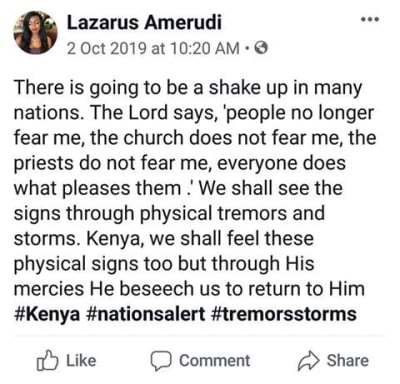 Shalom,
~ Esther Hadassah
Revivalist & Apostolic servant of Jesus Christ
---
Esther Hadassah is an apostolic minister and an end-time revival preacher. She has been serving in full time prophetic ministry for the past three years. The LORD has called her to preach the message of the holiness and repentance and to set the captives free.