Opened Doors — Deliverance from Devastation
On 21 March 2022 I had three incidents involving Doors that made me wonder.
The first was early morning and I walked past my front door and went into the kitchen, but as I came back, I felt cold and my front door was open.
I then fed my cat, left her eating and went outside deliberately closing the door. Yet, my cat appeared in the garden. The door was open.
I later went on a walk and sat in the local Church quietly singing and praising. I heard a mighty slam of the large heavy door yet, I hadn't left it open and there was no wind. It seriously shook me that time!
I was then led back to a drawing I had done with a Hebrew letter meaning open door and water gushing out.
A couple of weeks ago, I had a vision of an old woman weaving on an old loom. She was sweating and tired and saying, "How much longer?"
I then saw a well with stones in the bottom and water started to trickle in and fill this well. I also heard the Words, "Deliverance from devastations".
The tapestry is what God has weaved through us and I believe it is readied to be revealed. From these trickles of water, the doors are opening to POUR OUT IN GREAT MEASURE.
Just as devastation came from the waters in Genesis 7:11, the spiritual waters of life are rising up from the ground and falling from the heavenlies, to take down the violent empires and to use his children to raise up the ruins.
I believe there has been a shift and we have now entered into the opening and closing of Doors season.
I believe The LORD has highlighted the word 'comfort' in my reading and Nahum means 'Comforting/ Compassionate. Nehemiah means 'God has comforted' and Noah means 'Comfort/ rest'.
The book of Nahum portrays Nineveh's fall as an example of how God won't allow violent empires to endure.
Noah and the Ark speaks of the rest we can have in all circumstances, even destruction.
It is believed that it was in 444 BC that Nehemiah journeyed to Jerusalem and aroused the people there to the necessity of repopulating the city and rebuilding its walls.
Again the number 4 appears and the Hebrew word for Comfort/ Consolation has the letter Mem that means water.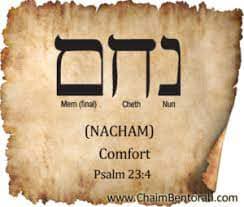 Though there are wars and rumours of wars, we are to be comforted in God's word and know that with Satan's dark agenda, God is moving in righteous judgement and shaking.
The LORD wants us to open our homes to him and allow ourselves to be closed in with him in our praises and worship, just us and him.
The LORD is delivering his children from all past wounds beloved. Physical and emotional illness, trauma and most of these will happen in 'suddenlies'. This is needed to climb upon this MIGHTY WAVE.
Pray for those who may fear this move of God, rather than see the beauty in the surrender.
"For I will pour water on the thirsty land, and streams on the dry ground; I will pour my Spirit upon your offspring, and my blessing on your descendants. They shall spring up among the grass like willows by flowing streams." Isaiah 44:3-4.
"You are my King and my God, who decrees victories for Jacob." Psalm 44:4.
We are to align with what God is saying as we enter the door God has opened and decree victory.
"The key of the house of David I will lay on his shoulder; so he shall open, and no one shall shut; and he shall shut, and no one shall open." Isaiah 22:22.
The Kingdom Keys to these Doors.
"Comfort, yes, comfort My people!" Says your God. "Speak comfort to Jerusalem, and cry out to her, that her warfare is ended, that her iniquity is pardoned; for she has received from The LORD's hand double for all her sins." Isaiah 40:1-2.
Comfort for God's People
Greeting
"Paul, an apostle of Jesus Christ by the will of God, and Timothy our brother, to the church of God which is at Corinth, with all the saints who are in all Achaia: grace to you and peace from God our Father and The LORD Jesus Christ."
Comfort in Suffering
"Blessed be the God and Father of our Lord Jesus Christ, the Father of mercies and God of all comfort, who comforts us in all our tribulation, that we may be able to comfort those who are in any trouble, with the comfort with which we ourselves are comforted by God. For as the sufferings of Christ abound in us, so our consolation also abounds through Christ. Now if we are afflicted, it is for your consolation and salvation, which is effective for enduring the same sufferings which we also suffer. Or if we are comforted, it is for your consolation and salvation. And our hope for you is steadfast, because we know that as you are partakers of the sufferings, so also you will partake of the consolation."
Delivered from Suffering
"For we do not want you to be ignorant, brethren, of our trouble which came to us in Asia: that we were burdened beyond measure, above strength, so that we despaired even of life. Yes, we had the sentence of death in ourselves, that we should not trust in ourselves but in God who raises the dead, who delivered us from so great a death, and does deliver us; in whom we trust that He will still deliver us, you also helping together in prayer for us, that thanks may be given by many persons on our behalf for the gift granted to us through many."
Paul's Sincerity
"For our boasting is this: the testimony of our conscience that we conducted ourselves in the world in simplicity and godly sincerity, not with fleshly wisdom but by the grace of God, and more abundantly toward you. For we are not writing any other things to you than what you read or understand. Now I trust you will understand, even to the end (as also you have understood us in part), that we are your boast as you also are ours, in the day of The LORD Jesus."
Sparing the Church
"And in this confidence I intended to come to you before, that you might have a second benefit — to pass by way of you to Macedonia, to come again from Macedonia to you, and be helped by you on my way to Judea. Therefore, when I was planning this, did I do it lightly? Or the things I plan, do I plan according to the flesh, that with me there should be Yes, Yes, and No, No? But as God is faithful, our word to you was not Yes and No. For the Son of God, Jesus Christ, who was preached among you by us — by me, Silvanus, and Timothy — was not Yes and No, but in Him was Yes. For all the promises of God in Him are Yes, and in Him Amen, to the glory of God through us. Now He who establishes us with you in Christ and has anointed us is God, who also has sealed us and given us the Spirit in our hearts as a guarantee.
Moreover I call God as witness against my soul, that to spare you I came no more to Corinth. Not that we have dominion over your faith, but are fellow workers for your joy; for by faith you stand." 2 Corinthians 1:1-24.
"In the six hundredth year of Noah's life, in the second month, the seventeenth day of the month, on that day all the fountains of the great deep were broken up, and the windows of heaven were opened." Genesis 7:11.
~ Yvonne Coombs
---
Yvonne Coombs. Please also see Yvonne's Prophetic Art here at "Yvonne's Paintings" on Facebook and on Instagram @y.coombs.art.