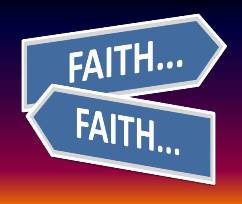 Faith is calling those things which are not as though they are.
"Whatsoever is not of faith is sin."  Any walk that is less than the walk of faith is a sinful walk.
Faith is a reason at rest with God.
Faith grows exceedingly fast not by a glimpse, not by a look, but by a gaze upon Him.
Faith is dependency upon God, and this God-dependency begins only when self dependency ends.
Faith does not always take you out of the storm; faith calms you in the storm.
There can be no spiritual reality apart from an active faith in Christ.
Therefore, no salvation, no holiness, no peace, no calmness, no power, no witness, no victory.   So at all cost learn to trust Christ.
Faith is the confidence and active trust that brings a child of God into the "sixth sense" which enables him to apprehend the invisible and spiritual things of God.  He can hear God speak and see God in a way that he knows it is God without the assistance of his physical faculties.
Faith bids eternal truth to become present fact.
•  Continually revise your relationship to God until the only certainty you have is the certainty that God is faithful; not you.
There is not a normal, healthy human being apart from religious faith.
"Faith claims the whole man, and all God's grace can make him" (Forsyth).
Faith is not a faculty;  faith is the whole man rightly related to God by the Spirit of Jesus.
Faith enables the believing soul to treat the future as present and the invisible as visible.
Faith is as much at home in the realm of the impossible as it is in the realm of the possible.
Prophet Ken Dewey
---

Evangelist/Prophet/Pastor Ken Dewey is the founder of "OUT OF THE DESERT MINISTRIES" in Belen, New Mexico, USA. He writes on this Web Site, many Prophetic words, Sermons and teachings while leading people into true church settings and preaching in an End Time Gospel Ministry.
To make a donation to OUT OF THE DESERT MINISTRIES please send to: PO BOX 223, BELEN, NEW MEXICO.
PLEASE PRAY ABOUT SENDING A LOVE OFFERING TO SOMEONE WHO IS IN THE MIDST OF THE BATTLE FOR SOULS.. AND TO OPEN BLINDED EYES OF THOSE WHO ARE SLEEPING IN THE BODY OF CHRIST. WE NEED YOUR HELP TO DO ALL THAT GOD IS SAYING FOR US TO DO. THANK YOU ALL …