A Highway Leading OUT of……??? (Parts 1&2)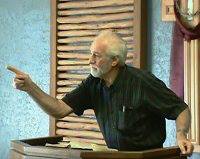 As I write this note I am aware that there is a HIGHWAY COMING TO BELEN AND NEW MEXICO. Many are heading this way. I have already received two…. wonderful families… here from other places. A Godly couple who have been moved by the Lord to this place to minister in the END TIME HARVEST arrived over a month ago. They have become a great encouragement in this ministry and…. ANOTHER FAMILY had family who lived here, but you must know they lived in Alabama. Well they did not intend to stay, but NOW GOD GAVE THEM A HOUSE HERE and the Lady has become our Praise Leader and both are a blessing.
I just got off of the telephone and talking with TWO MORE. These are come out of CALIFORNIA. They are saying to me that God has spoken to them about MOVING OUT OF THE CALIFORNIA EARTHQUAKE AREA. I do not doubt that at all BECAUSE I HAVE HEARD THE LORD SAY HE WILL BE BRINGING OUT OF THE CALIFORNIA EARTHQUAKE ZONE.
I have heard words about a HIGHWAY OF GOD leading to New Mexico OUT OF CALIFORNIA. Another Christian told me that they had seen a vision of a HIGHWAY OF GOD and many were coming from California TRAVELING ON THIS HIGHWAY TO NEW MEXICO.
In the last month I have talked with two other people who live in California who are talking about coming out and wanting to know about living here and working in this ministry.
The other day I talked with a lady from Nebraska about coming here. ALSO…. I have a business man in Pennsylvania that has said He feels God wants to move his Business to New Mexico.
The List goes on and on….
In 2009 the Lord begin to tell me that AN END TIME REMNANT WOULD RISE FROM THE RUINS OF RELIGION… AN END TIME ARMY. He said a TIME OF A GREAT SHAKING AND A GREAT HARVEST WOULD COME AND I MUST PREPARE FOR IT.
He has given me many instructions about people coming into this area, and these people would NOT BE NORMAL PEOPLE… but you must know the Lord has said they will be MARCHING TO THE ORDERS OF THE LORD. He said they would not listen to any other voice but his and that they would be coming saying ENOUGH IS ENOUGH. They would STOMP ON THE ENEMY and WALK ON THE RUINS OF RELIGION.
Here is the link to the REMNANT WORD I DID RECEIVE:
Remnant From the Ruins
I want you to know that we are BEEFING UP TO RECEIVE THIS ARMY… AND PREPARING FOR THE END TIME HARVEST which the Lord has told us is coming. Belen means Bethlehem in Spanish. The Lord said He would begin again in BETHLEHEM… WOW. He said to Me, "Where did I begin?" Then He answered immediately by saying… "DO YOU KNOW WHAT BELEN MEANS? IT MEANS…..BETHLEHEM!!!" The answer came back loud and clear. I do not know how the Spanish people get Bethlehem out of Belen, but it is so!!! In 2010 we came here to hold a Tent Meeting, not intending to stay, but we meant to go on into Arizona for winter Tent Meetings. At the end of the meeting God said, "STAY IN BELEN… I WILL RAISE UP AN ARMY HERE." Well, we have been here now ever since looking and watching. We have been blessed with a new Church…. THE PRECIOUS STONE CHURCH of the LIVING SAVIOR. It is small yet (at the moment), and does not look like an Army, but IT IS GROWING. We have as well heard many things about the Land which the Lord has given us in Rio Rancho New Mexico. The Lord said He would build a CITY IN THE DESERT. We are moving into all these words believing that GOD WILL DO AS HE SAID…. AND IS… DOING IT EVEN AS I WRITE THIS.
Now please let me ask you, IS GOD LEADING YOU TO BE INVOLVED WITH THIS ARMY AND END TIME MOVE OF GOD? If you are moved by this Note and the Message in it… THEN GOD COULD BE MOVING YOU AS WELL.
If you feel God is speaking to you about COMING OUT OF CALIFORNIA TO SAFER GROUND… OR… If you live somewhere and feel God is leading you to some other place…… PLEASE PRAY ABOUT THIS… ASK GOD IF NEW MEXICO IS HIS LEADING…
THE ROAD IS LEADING HERE FROM CALIFORNIA AND OTHER PLACES….
HE IS CALLING COME AWAY… HE IS WARNING MANY… DO NOT LOOK BACK… Run! – Word #2
11 December 2013
This morning following a dream about MANY COMING IN FROM OTHER PLACES, I did hear this WARNING WORD to many to whom He is speaking. I must Obey God and Write this Word. It is a very strong warning word, one of the strongest words I have ever heard, and one very particular, and to certain people.
If while reading this Word, you hear the Voice of the Lord speaking, it is most likely FOR YOU.
Now the Word:
I am here to obey and to speak of his way which does run through this Desert. Into his Glory many will come. He is calling:
COME AWAY, yes, COME AWAY, COME AWAY WITH SPEED, COME FOLLOW ME.
Into my Glory and into my plans, Run, yes Run.

It is coming, yes coming. My WARNING IS NOW COMING FORTH. Shaking and more Shaking, until all falls down. I am calling and warning you to Run, Run with speed and Don't Look Back! Only Flee away before it shakes. Even as I did Warn Lot to run from Sodom, I am again Warning many to Run.

Do not tarry. Do not question. Only trust my words now and don't argue. Only obey me and quickly because it is coming suddenly and very suddenly.

I am preparing a place for you. A home in the Desert. I am setting a Table for you and I Invite you. COME AWAY WITH ME AND FEAST. Let the evil alone and Run with me. You will not be sorry, you will be Greatly Blessed.

But warn you again, I am. DON'T HESITATE OR BE LATE. COME IN HASTE THE DANGER IS AT HAND!
*****************************************************************************
I have added this Word out of Obedience. Now Lord do publish it to those who need to hear it, Quickly.
– Prophet Ken Dewey
---

Evangelist/Prophet/Pastor Ken Dewey is the founder of "OUT OF THE DESERT MINISTRIES" in Belen, New Mexico, USA. He writes on this Web Site, many Prophetic words, Sermons and teachings while leading people into true church settings and preaching in an End Time Gospel Ministry.
NOTICE: One of the ways you can get involved in this OUT OF THE DESERT ARMY is to become a PARTNER or to GIVE A DONATION. We are believing God for many more Monthly Partners to stand with us in Monthly Giving and Offerings. If you have a desire to help and give, please know we need your help. God is sending people as I write to this place. We need your help and prayerful giving to enable us to do more for more people. Please send you pledge to becoming a Monthly Partner or to sow an offering into this Ground. To make a donation to OUT OF THE DESERT MINISTRIES please send to: PO BOX 223, BELEN, NEW MEXICO, our visit our Donations Page, for PayPal.
PLEASE PRAY ABOUT SENDING A LOVE OFFERING TO SOMEONE WHO IS IN THE MIDST OF THE BATTLE FOR SOULS.. AND TO OPEN BLINDED EYES OF THOSE WHO ARE SLEEPING IN THE BODY OF CHRIST. WE NEED YOUR HELP TO DO ALL THAT GOD IS SAYING FOR US TO DO. THANK YOU ALL …