A Prayer and Decree for America
"By the blessing of the upright the city is exalted: but it is overthrown by the mouth of the wicked," Proverbs 11:11.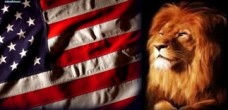 We who are Christ's, have been given the authority in the earth to either bless or curse our cities, our states and our Nation! When will we wake up to the responsibility that God has given us and stop cursing our Nation!
Today, I decree that we live in the greatest Nation on Earth and that God has blessed us!
I say that no weapon formed against this nation today shall prosper!
I also decree Job 5:12-13, that He frustrates the devices of the crafty, so that their hands cannot perform their enterprise or anything of [lasting] worth. He catches the [so-called] wise in their own trickiness, and the counsel of the schemers is brought to a quick end.
And also Job 5:6 "For affliction comes not forth from the dust, neither does trouble spring forth out of the ground."
I decree that this evening, that God will look over America and that his angels are being dispatched all over our country and all countries of the earth to uncover plots and plans made by the enemy!
God you are almighty and your kingdom will reign on earth as it is in Heaven!
Shine on America oh God and may we be your shining city on a hill for all to know that you have blessed us!
Forgive us for shedding the blood of the innocent children and for our forgetting you and bring this great awakening to this Country so that we can be the people that you have created us to be for your purposes!
In The Mighty Name Of Jesus!
"He frustrates the devices of the crafty,
So that their hands cannot carry out their plans.
He catches the wise in their own craftiness,
And the counsel of the cunning comes quickly upon them," Job 5:12-13.
~ by Jo Ellen Stevens
Arise Shine!
---
Jo Ellen Stevens of TCIC Ministries is a Prophetic speaker, author, worshiper and intercessor. She has ministered with her husband for 23 years and was a worship leader at the Assembly of God for many years. She is an ordained minister (Restoration Ministries) and works with Restoration Ministries in their Ministry Rooms doing prophetic worship with her husband. She has taught many bible studies and have led many intercessory prayer groups.