A Prayer of Commitment to God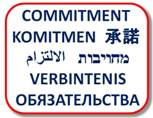 Commitment means pledging oneself to something or to someone else, with dedication and loyalty. Making a commitment, is making a promise, a vow, a pledge and an obligation, binding oneself.
Jesus and the writers of the Bible ask many times that we make a commitment and we bind ourselves to Him. In the Lord's Prayer of Matthew 6 we find a simple statement of commitment which Christians often overlook. "Your kingdom come" is a dangerous prayer, for it means the death of our sovereignty. It means that we submit before the throne of the Most High God and when we do that, we submit all we are and all we have and all that is due to us.
As I was answering a Prayer Request today, the Lord put it in my heart to correct the view that it is good and proper to pray for our "wants" rather than our "needs." He showed me that what is important to Him is our commitment to Him, but that so few confessing Christians seem to be prepared to make that sacrifice. As the Bible says in Psalm 51:17 "The sacrifices of God are a broken spirit; a broken and a contrite heart, O God, You will not despise." Without commitment, we cannot possibly achieve that.
Committing to Jesus was not easy; for many, it is no easier now. Remember the verses of Matthew 8:19-22
"Then a teacher of the law came to him and said, "Teacher, I will follow you any place you go."
Jesus said to him, "The foxes have holes to live in. The birds have nests. But the Son of Man has no place to rest."
Another of Jesus' followers said to him, "Lord, I will follow you too, but let me go and bury my father first." But Jesus said to him, "Follow me, and let those who are dead bury their own dead."
Remember also the words of Jesus in John 15:20 "… If they have persecuted Me, they will also persecute you…." and of Mark 8:35 where Jesus clearly prophesied their future, saying "For whoever will save his life shall lose it; but whoever shall lose his life for My sake and the gospel's, he shall save it."
Yes, Jesus warned His followers clearly of the issues that would come their way. Of those who persisted in commitment and followed Him, so many died a brutal martyrs death.
Christian commitment requires faith, for "… without faith it is impossible to please Him, for he who comes to God must believe that He is and that He is a rewarder of those who diligently seek Him" (Hebrews 11:6) and "faith is of hearing, and hearing by the Word of God" (Romans 10:17).
I invite you and urge you therefore to pray the following prayer of commitment to the Lord our God. But be warned, it is a dangerous prayer; for the Lord demands our all, our everything, leaving no stone unturned. Giving our commitment, our will and our lives to the Lord as we ought, we acknowledge His Kingship over our lives. We recognise His sovereignty over our lives.
Dear Heavenly Father,

You are my Lord and my God. I know from Your Word that a broken spirit, a broken and a contrite heart is a sacrifice, O God, that You will not despise.

I come before you now to offer myself to you Lord God – all of me – my body, my mind and my soul. All I have, all I am, are Yours and Yours alone.

I confess Lord, that I am a sinner and I ask for Your forgiveness for all the sins I have committed.

I repent of my sins Lord, and with your help, I choose to turn away from them and I proceed in the opposite direction, turning to You alone.

In the name of Jesus, I also choose to forgive all those who have ever wronged me or who have ever spoken slanderous words against me. I bless each one of them in the name of Jesus and pray that the love and peace of Jesus will fall heavily upon them now.

Lord God, I freely and most willingly submit my will before you now, and ask that from now on, You and only You, will lead me.

I also submit my body to You as a living sacrifice; for Your use and the use of You Kingdom. Lord, let me no longer be conformed to this world, but be transformed by the renewing of my mind such that I may be a sacrifice to Your good and acceptable and perfect will.

Search me O God, and know my heart. Test me and try me Lord and know my thoughts and see if there is any wickedness in me. Lead me O Lord, in your everlasting ways.

Break me and remould me Lord; reshape me Lord into the image which you desire of me.

Stretch me Lord, and expand me into the new areas of life which you have destined for me.

Lead me Lord, onto and along that narrow path which You have chosen for me, so that my destiny may be fulfilled exactly as You have planned since before I was in my mother's womb.

Use me Lord, for the magnification of Your name and Your glory and for Your Kingdom, according to Your will.

O Lord God, as I submit myself to you, I commit to doing everything I do, to saying everything I say, and to choosing everything I choose, for the sake of Your Kingdom and not mine.

Father, I pray this in the mighty name of Your son, Lord Jesus Christ, my Lord and my Saviour. Amen!