A United Sovereignty and Vision Confirmation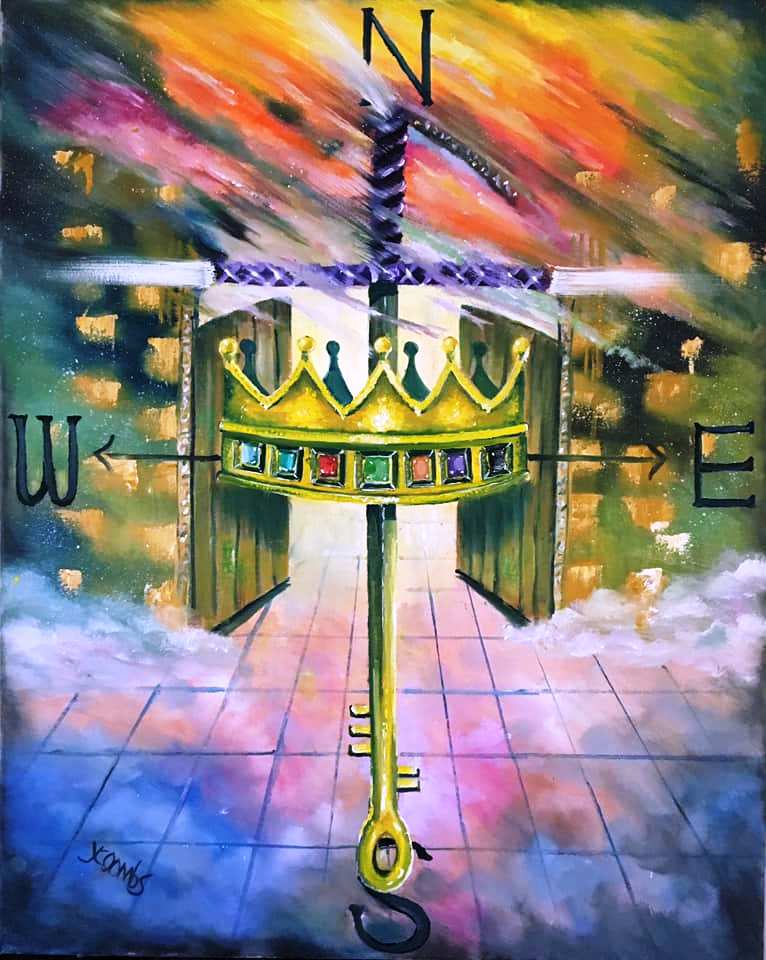 This incredible painting done today by Yvonne Coombs, an amazing Prophet and Artist confirming the Word I released on the vision of the Emerald Isle, The Crown, The Key of David that becomes a golden sceptre of God's favour that is extended towards the nation and that opens The Door to Reformation in the nations.
The eye of Leviathan is upon the emerald jewel in The Crown.
For more understanding, please see HKP Article:  "An Urgent Prophetic Word for the Emerald Isle of Ireland"
Yvonne shares what she heard the Spirit of God say to her as she painted this picture, the Word and revelation that Papa gave her powerfully confirms what many Prophetic Voices in our Beloved Nation are hearing at this very critical time of TRANSITION.
"I call this piece 'A United Sovereignty'.
"From the North, to the South, to the East, to the West, harken, hear Me!  The great test!"
As I painted this, The Holy Spirit spoke, "United you stand and divided you fall!"
The LORD says, "The jewels in The Crown are The Key.  Keep fixed on Me and The Key!
I come to claim what was once mine!  It is time!  My jewels must align in this time for united you stand and divided you fall!"
I had to paint this today as I felt The Holy Spirit prompting urgently and I needed to paint five points in the fore front of The Crown to mark the five-fold ministry.
I realised The Sword was aligned to The Key and was going to change it, but realised they needed to meld together as it, the Word and declaration over these jewels, to come together and stay together, that will release The Key to open this awesome ancient gate of grace!"    © Yvonne Coombs
"If My People, who are called by My Name, will humble themselves and pray and seek My Face and turn from their wicked ways, then I will hear from heaven, and I will forgive their sin and will heal their land,"   2 Chronicles 7:14.
Blessings to you all.
~ by Veronika West
---