Bringing The Eternal Into Time
"Bringing The Eternal Into Time ~
Open The Eyes Of My Heart Lord"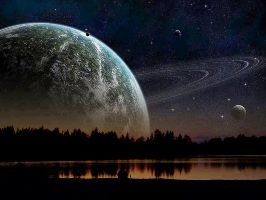 Jesus came and gave us an example of how to live in the eternal realm even while in these tabernacles that we call bodies. He wanted us to learn how to have dominion and live in the two realms at once. The only reason that we can not live in the eternal realm right now is because we are trapped in this place called time… but wait, can we? This is an interesting scripture that Wade Urban brought to my attention one night. John 3:13, "No one has ascended to heaven but He who came down from heaven, that is, the Son of Man who is in heaven." Jesus was standing on earth declaring that He was in heaven… huh? You see, He was saying that, although He was on earth, He was operating in the eternal realm of heaven. Hallelujah!
As soon as we are born again we have eternal life! It does not start when we die. John 3:36, "He who believes in the Son has everlasting life; and he who does not believe the Son shall not see life, but the wrath of God abides on him." (The word abides is also present tense) So in order to enter into everlasting life we must believe on Jesus. He is the door into this "everlasting life" or eternal realm.
John 10:9 "I am the door. If anyone enters by Me, he will be saved, and will go in and out and find pasture." Go in and out of where? In and out of the realm of the kingdom. We have access into the Holy of Holies actually. This is the realm where the glory of God is. The Greek word for "pasture" here is the Greek word (3542. nome, nom-ay'; pasture, i.e. (the act) feeding, or (the food) pasturage. So we get our food or our revelation as we go in and out of this eternal realm and then bring it back to the people because we have entered into the door (Jesus) we can go there on a regular basis.
Hebrews 4:16 "Let us therefore come boldly unto the throne of grace, that we may obtain mercy, and find grace to help in time of need." We find this mercy, and grace at the throne of God because Jesus made the way so that we could have access into eternal things through faith but believing is a requirement for bringing the eternal into the natural.
Think of it this way the eternal realm of the kingdom is right here right now! As Jesus cast out devils and the people saw it with their natural eyes, He said this in Luke 11:20, "But if I with the finger of God cast out devils, no doubt the Kingdom of God is come upon you." He said you are seeing that the Kingdom of God is right here right now because you have "seen" Me manifest it but there is a veil that has separated us from "seeing " the kingdom until we go through the door (Jesus) by faith. John 3:3, "Jesus answered and said unto him, Verily, verily, I say unto thee, Except a man be born again, he cannot "see" the Kingdom of God." Until you are born again or receive Jesus as "the way" you are clueless as to this realm around you but once you accept "the way" (Jesus), then the veil to the Kingdom is taken away and you begin to be aware of this realm. 2 Corinthians 3:14-16, "But their minds were blinded. For until this day the same veil remains unlifted in the reading of the Old Testament, because the veil is taken away in Christ. But even to this day, when Moses is read, a veil lies on their heart. Nevertheless when one turns to the Lord, the veil is taken away."
Suddenly you are in the eternal realm of God and you "see" things that you did not see before because when you are outside of the kingdom you can not "see." Mark 8:18, "Having eyes, see ye not? and having ears, hear ye not?" Also, Mark 4:11-12, "And he said unto them, Unto you it is given to know the mystery of the Kingdom of God: but unto them that are without, all these things are done in parables: That "seeing' they may "see", and not perceive; and hearing they may hear, and not understand; lest at any time they should be converted, and their sins should be forgiven them."
My Mother had read the bible out loud for years while I was growing up and she had sung the word. In fact, my mother sang everything my friends use to say but I never understood or saw what she was saying until one day I asked Jesus to be my Lord and as soon as I gave my heart to Him and went through the door of the sheep, it was very quick that the words that she spoke for so many years came to life in my Spirit and I began "seeing" what those words meant. It started being revelation to me and the veil was finally gone. Glory to God! Proverbs 1:23, "Turn you at my reproof: behold, I will pour out my spirit unto you, I will make known my words unto you."
I had a dream once that I saw God take His hands and roll up the sky and say, "And time is no more" and when He did the eternal realm was visible and I realized that it had been there all along but I couldn't see it as long as I was in "time"! If we could see with these natural eyes the things that are going on around us we would see that the eternal realm is more real than what we see here in time.
Elisha's servant saw this "other realm" when Elisha prayed that God would cause him to "see" it in 2 Kings 6:15-17, "And when the servant of the man of God arose early and went out, there was an army, surrounding the city with horses and chariots. And his servant said to him, "Alas, my master! What shall we do? "So he answered, "Do not fear, for those who are with us are more than those who are with them." And Elisha prayed, and said, "Lord, I pray, open his eyes that he may see." Then the Lord opened the eyes of the young man, and he saw. And behold, the mountain was full of horses and chariots of fire all around Elisha."
Wow!! These scriptures are so exciting to me because it ts telling me that because I am in the kingdom or the eternal realm now, that I can see things that those outside can not see and hear! I now have access into another dimension, another realm that those that are outside of the kingdom do not have access to. Jesus said in John 10:26-27, "But you do not believe, because you are not of My sheep, as I said to you. My sheep hear My voice, and I know them, and they follow Me." Wow! Now that makes me want to shout because I have this access to my Fathers realm. I can hear His voice in everything that I do and see. I feel sorry for those that are not a part of this "kingdom" and do not have access to it, those that have never come through the door (Jesus) to see what it says in 1 Corinthians 2:9-10, "But as it is written: "Eye has not seen, nor ear heard, Nor have entered into the heart of man the things which God has prepared for those who love Him, But God has revealed them to us through His Spirit. For the Spirit searches all things, yes, the deep things of God."
Suddenly you are aware of another realm that you had not been aware of before and suddenly you "see" that "kingdom" where the impossible now looks possible because you are dealing with a whole new realm outside of the five physical senses that is available to you only because you have gone through the door (Jesus!) So now by faith in Jesus you have access into this glory realm!! Oh praise His wonderful name for bringing us into His kingdom through His sacrifice at Calvary! Hebrews 2:10, "For it was fitting for Him, for whom are all things and by whom are all things, in bringing many sons to glory, to make the captain of their salvation perfect through sufferings. Woohoo!! He made the Way!
If we want to "see" this "realm of the eternal" manifest it will be by faith. Hebrews 11:1-3, "Now faith is the substance of things hoped for, the evidence of things not seen. For by it the elders obtained a good testimony. B y faith we understand that the worlds were framed by the word of God, so that the things which are seen were not made of things which are visible."
Do you understand that everything that we see with our natural eyes was made by something that we can not see in the unseen realm? The eternal stuff came because someone "saw" it by faith and began to move out by that same faith and then it became something in the natural realm.
In this passage of scripture the root word for evidence here is a bridge. So by faith you can bring the eternal realm that you cannot see into the natural realm on that bridge from heaven to earth. Genesis 28:12-17, "Then he dreamed, and behold, a ladder was set up on the earth, and its top reached to heaven; and there the angels of God were ascending and descending on it. And behold, the Lord stood above it and said: "I am the Lord God of Abraham your father and the God of Isaac; the land on which you lie I will give to you and your descendants. Also your descendants shall be as the dust of the earth; you shall spread abroad to the west and the east, to the north and the south; and in you and in your seed all the families of the earth shall be blessed. Behold, I am with you and will keep you wherever you go, and will bring you back to this land; for I will not leave you until I have done what I have spoken to you." Then Jacob awoke from his sleep and said,"Surely the Lord is in this place, and I did not know it." And he was afraid and said, "How awesome is this place! This is none other than the house of God, and this is the gate of heaven!"
The Church (the house of God) is the gate of heaven to bring the angels from heaven to earth and bring this kingdom realm into the earth's realm. As we speak and move by prophetic action according to the word or rhema, the (revealed) word of God we create a bridge into a situation for the glory of God and His kingdom! Faith is the "bridge to somewhere"! Glory to God! Psalms 103:20, "Bless the Lord, you His angels, Who excel in strength, who do His word,Heeding the voice of His word." You see, as we speak the word by faith or do the word, we are creating this bridge that will cause angels to ascend and descend into our homes, cities, and nations!! So let's not be moved by the things that we see in the natural but be moved by what "see" with the eyes of our spirit. Lord, "open the eyes of our heart" that we might "see" the kingdom that is right here right now!! Glory to God!!
Arise Shine – by Jo Ellen Stevens
---

Jo Ellen Stevens of TCIC Ministries is a Prophetic speaker, author, worshiper and intercessor. She has ministered with her husband for 23 years and was a worship leader at the Assembly of God for many years. She is an ordained minister (Restoration Ministries) and works with Restoration Ministries in their Ministry Rooms doing prophetic worship with her husband. She has taught many bible studies and have led many intercessory prayer groups.