Christians: Strengthening, Encouraging and Comforting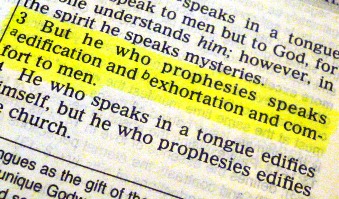 I have been reading recently about prophecy and prophets and as the words of First Corinthians 14:3 came before me, they struck a deep place within me. In the Modern King James Version, the verse reads:
"But he who prophesies speaks to men for building up, and exhortation, and comfort."
As I read the words, Building up, exhortation and comfort, I immediately reached for a yellow highlighter and coloured them, so as to follow up later. The 400-year-old King James Version uses the words " edification, and exhortation, and comfort" and the Easy-to-Read Version uses "They help people grow stronger in faith, and they give encouragement and comfort."
No matter which words are used, Strengthening, Encouragement and Comfort, (οἰκοδομὴν – παράκλησιν – παραμυθίαν in Greek and pronounced oikodomēn – paraklēsin – paramuthian) are God's intentions for prophecy and it is aimed for all of us, for the Body of the Church. For, as Second Peter 1:20 says "prophecy was not borne at any time by the will of man, but holy men of God spoke being borne along by the Holy Spirit."
In First Corinthians 14:5 Paul reiterates of the importance of Prophecy in the Church in saying:
"I wish all of you to speak in languages, but rather that you may prophesy; for greater is he prophesying than he speaking in tongues, unless he interpret so that the church may receive building up."
Yes again, Paul mentions the building up of the Church. It was important to him and it should be for us too, as Christians. After all, we serve the same God.
Let me now tell you what struck me as I read First Corinthians 14:3. But first, let me be clear here, I am not a prophet. I say this not out of humility, but as a simple fact. Do I prophesy? Yes I do, and so do we all: Joel 2:28 makes quite clear that we all can prophesy; however that does not make me a prophet. People have occasionally blessed me by telling me that my words to them have come true, or my advice was sage, but as I have never been able to tell whether my words come from my flesh or the Holy Spirit. More and more now, I have come to realise it must be the Holy Spirit, for the fruit confirms the root. But never do I recognise I am actually prophesying.
What I believe the Holy Spirit was laying in my heart as I read First Corinthians 14:3 was that Strengthening, Encouraging and Comforting, are the ways in which all Christians should conduct themselves at all times, whether dealing with other Christians or not. Indeed, especially when dealing with non-Christians. Why so? For, as I wrote above, by our fruit we will be recognised. As Galatians 5:22 says, "… the fruit of the Spirit is: love, joy, peace, long-suffering, kindness, goodness, faith, meekness, self-control …" When we bear this fruit, we are "building up" the Church by reflecting the Love of God which is within us.
Building up, edifying and encouraging in relation to First Corinthians 14:3 all relate to the Church, Body of Christ, our fellow Christian brothers and sister and prophecy, as a gift of the Spirit. But the original Greek word used here has more than one meaning.
For "building up," Thayer's Greek definitions says, οἰκοδομή or oikodomē means:
1) (the act of) building, building up
2) metaphorically edifying, edification
2a) the act of one who promotes another's growth in Christian wisdom, piety, happiness, holiness
3) a building (i.e. the thing built, edifice)
In other words, the original , οἰκοδομή or oikodomē can also mean in another context, the building up of the Church, not intellectually or spiritually, but physically, as in adding new member to the Church, or growing the Church.
Yes, I believe Strengthening, Encouraging and Comforting are the ways in which all Christians should conduct themselves at all times, and especially in dealings with non-Christians. When we do, we can both build and grow the Church, for as others look at us, they will not see us, but see that which is within us, and He that is within us is greater than he who is in the world. As Paul reminds us in First Corinthians 3:16 "Do you not know that you are a temple of God, and that the Spirit of God dwells in you?"
Let us take the truth of Joel 2:28 that we can all prophesy (whether or not we know or recognise are actually prophesying), and the truth of First Corinthians 14:3, that when we prophesy we build up, encourage and comfort, and recognise that our building-up, our encouragement and our comforting is for ALL people.
In other words, let us be strengtheners, encouragers and comforters to both Christians and non-Christians as we grow the Church for the Lord Jesus Christ.
Amen.