Hallelu-YAH! — Huawei Halted From UK 5G Network
In a most spectacular U-turn, the British Government of Prime Minister Boris Johnson today (14 July 2020) banned Chinese technology company, Huawei, from the UK's 5G mobile network.
The ban ordered that all Huawei equipment be removed from the UK's 5G network by 2027.
News reportage of the ban linked the U-turn to sanctions imposed on Huawei by the United States last May.
One such report is by the website of The Mirror newspaper, which stated that:
"The move was announced in parliament by culture minister Oliver Dowden, who said the imposition of new sanctions by the United States significantly changed the assessment of Britain's National Cyber Security Centre, who could not guarantee the security of future Huawei 5G equipment."
Although this is true in the natural, the United States sanctions were a mere catalyst used by The Divine Hand to stop and reverse the very mistaken policy decision of the UK government.
Like other holy brethren (Hebrews 3:1), I have been in fervent prayer for the reversal of the UK government's unthinkable decision to allow Huawei to build part of the UK's 5G network.
Oh, how TRUE God's Word is:
"…The earnest prayer of a righteous person has great power and produces wonderful results." (James 5:16 NLT).
We just have to go to God on any matter — personal, national, ministry-related, etc. as led by The Holy Spirit, and God WILL answer, (2 Chronicles 7:14).
God our Father and Jesus Christ our LORD: we THANK You for Your intervention in this matter. You ALONE have the final say.
"But thanks be to God, who gives us the victory through our LORD Jesus Christ," 1 Corinthians 15:57.
"Now thanks be to God who always leads us in Triumph in Christ, and through us diffuses The Fragrance of His Knowledge in every place," 2 Corinthians 2:14.
Below is my original HKP post on the UK Huawei matter: "UK: Prayer Alert — No Way For Huawei!"
February 14, 2020.
Would you give a known burglar 35 % access to your home? No.
Would you allow a deadly poison 35% presence in your drinking water? No.
It amounted to much more worse than the above when the British government recently announced the decision to allow the controversial Chinese hi-tech and telecom company, Huawei, to build 35% of the United Kingdom's 5G network.
Barely days after the United Kingdom, by the MERCY and POWER of God, extricated itself out of the clutches of a monster (the European Union), it willfully takes to its very internal organs the claws of the dragon nation (China's repressive communist regime)!
While the decision was pending before the cabinet, I was in much intercessory prayer that the Boris Johnson government would not allow Huawei into the country's 5G communication infrastructure and system.
Surprisingly, the government announced the decision to allow Huawei to build 35% of its 5G network infrastructure.
The truth of God is this: Give NO place to the devil (Ephesians 4:27). If you give the devil a bit of place he will take the whole place!
Huawei is a telecom and hi-tech front for the repressive Chinese communist regime. And, just like Russia, China is a goat nation marshaling itself and others against The Living God in these end times.
After the British government's Huawei announcement, I was before The LORD, asking: "Would the United Kingdom give a Russian entity access to its communication infrastructure and system?" No.
Why then allow an entity of China — a country that poses the same danger as Russia?
The very next day after my communion with The LORD, I was pleasantly surprised to read a news report that six senior Members of Parliament (from the ruling party), four of whom are former cabinet members, are demanding the government to "rule out hi-tech from untrusted, high-risk vendors" — a veiled reference to Huawei and such others.
British national, corporate and individual information and other assets are at risk.
Satan is aggressively gathering as much data as he can get, so as to steal and kill and destroy individuals, families and nations. And the Dragon Nation is one state actor being greatly used by The Great Dragon at this time.
(Oh, by the way, did you know that the coronavirus was allegedly accidentally released from a Chinese biological weapons laboratory? Rick Joyner said so in a YouTube video recently — see here).
Just like Russia, China is of utmost danger in these last days. Chinese military and other entities are relentlessly hacking into western national and corporate systems, stealing whatever they desire.
How then would a government roll out the red carpet for an entity (a front) of the Dragon Nation into a vital national infrastructure?
I believe someone influenced the decision, yes, "The Great Dragon…that serpent of old, called the Devil and Satan, who deceives the whole world" (Revelation 12:9), did.
It is therefore, a matter for fervent spiritual warfare immediately.
My beloved brethren (James 1:16), let us URGENTLY intercede for God's intervention in this matter.
Remember, our God says:
"if My people who are called by My Name will humble themselves, and pray and seek My Face, and turn from their wicked ways, then I will hear from Heaven, and will forgive their sin and heal their land," 2 Chronicles 7:14.
"Again I say to you that if two of you agree on earth concerning anything that they ask, it will be done for them by My Father in Heaven," Matthew 18:19.
Let's agree and pray regarding the British government's Huawei decision — that there be no way for Huawei into the communication infrastructure of the United Kingdom.
If it is The LORD's will, Huawei must not be allowed.
Postscript:
This is the heading of an article from Sky News, dated February 10, 2020.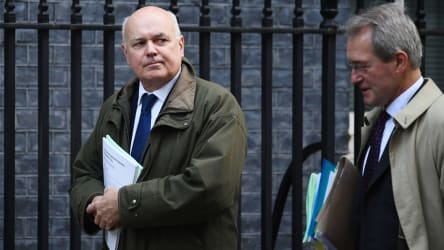 "Senior Tories pen letter demanding Huawei is 'ruled out' of 5G plans"
Four former cabinet ministers are among a group of Conservative MPs who have signed a letter raising concerns about the government's decision to allow Huawei a role in building the UK's 5G network.
The letter is calling for "high-risk" vendors to be ruled out now, or phased out over time.
Image and text ©Sky News
"The LORD Jesus Christ be with your spirit. Grace be with you. Amen." 2 Timothy 4:22.
"Farewell" Acts 15:29.
~ Jacob Awagah
---
Jacob, an apostle of Jesus Christ by The Will of God, according to The Promise of Life which is in Christ Jesus, (2 Timothy 1:1). As John was, Jacob is the disciple whom JESUS loves, (John 13:23;19:26; 20:2; 21:7,20). And like Paul, Jacob is "the prisoner of CHRIST JESUS" (Ephesians 3:1) for His Purpose forever: to obey Him always.
"And having been perfected, He became The Author of Eternal Salvation to all who obey Him," Hebrews 5:9.