NEPAL: Pastor Arrested on Wrongful Accusation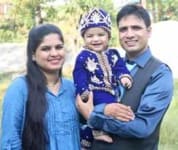 Police in Nepal have arrested a pastor, Keshab Raj Acharya, and accused him of misleading people about COVID-19 with false information about the novel coronavirus.
He was arrested on 23 March in Pokhara, capital city of Gandaki Pradesh province.
In a video used against him on social media, Pastor Acharya is praying before his congregation and rebukes the virus in the name of Jesus.
This has been interpreted as him allegedly saying, in the words of a report by The Himalayan Times, that "COVID-19 could do nothing to followers of Jesus Christ" and "could not even touch the followers of Jesus".
Police then arrested Pastor Acharya for giving the public false information about the virus.
Junu Acharya, Pastor Acharya's wife, said that her husband had received a call at night from an unknown man who asked for prayer for his sick wife.
Pastor Acharya invited the man and his wife to his house for prayer. While she was being prayed for, four police officers turned up, surrounded and arrested him, then took him to the police station.
Junu Acharya added, "I immediately called two of the brothers from our church who can drive and followed the police's vehicle. I was afraid that he would be beaten up by police or would be taken somewhere else. I wanted to ensure that they were taking him to the police station."
Christian leaders in Nepal have spoken out against the arrest of Pastor Acharya. Pastor Mukunda Sharma, Executive Secretary of the Nepal Christian Society, urged fairness from the District Superintendent of Police and no pressing of criminal charges.
He told the District Superintendent that "the police cannot prosecute the pastor for exercising his faith and that it is a gross violation of human rights. He assured me that the pastor was taken into custody only for an inquiry."
C. B. Gahatraj, president of the Federation of National Christian Nepal, has stated that the practice of praying is not in conflict with the laws of Nepal.
This is the first time that a Christian in Nepal has been arrested for a message shared on social and other media.
Christian leaders say that the arrest is turning into a high-profile issue, with Hindu fundamentalist groups linked to prominent political leaders taking an interest in the video.
---
Home Group Prayer
"You shall serve the LORD your God, and he will bless your bread and your water, and I will take sickness away from among you," Exodus 23:25 ESV.
Heavenly Father,
We pray to you for all your suffering children during this COVID-19 crisis.
We pray for all those who are suffering from the sickness and their loved ones.
We pray for those who have lost their lives and their grieving families and friends.
We pray that you will grant comfort to those who have lost jobs and income as a result of the virus.
We pray for those who are depressed and suffering from being alone.
We pray as well for Pastor Acharya and his family.
We pray that he will continue to be able to serve the Lord and his flock and pray for his parishioners.
We pray that they will receive the care they need when ill or in need of spiritual guidance.
We pray that this does not signify religious intolerance in Nepal and that he will be released immediately.
We all must be one family under God to free ourselves from the sickness of sin.
Be with us all at this difficult time and ease our anxieties. Let us know that with You we have no reason to fear sickness, death or prison. You overcome all.
In Jesus' Name we pray. AMEN.
---

Materials used by kind permission of the original author.