Recognizing Pride in Ourselves or Others
So how do we recognize pride?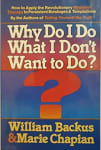 I am going to paraphrase and embellish on William Backus' book "Why Do I Do What I Don't Want to Do?"
The Pride of Superiority — says I must to flawless work (perfectionism) and I must try harder to be perfect so that nobody will find fault with me.
It is characterized by low self-confidence, self-loathing, fault-finding, self-critical, silent unrecognized self-talk. It is the pride of considering yourself better than others, wanting to do things "my way" vs Yahweh's.
Pride of Discontentment — Anger at God is the most flagrant symptom of this form of pride.
Jonah is a good biblical example. In this problem nothing is good enough. More is never enough you see it a lot in alcoholic homes, and the homes of perfectionists.
Pride of Suffering — says only I know what living for God really means.
Competition is characteristic. My suffering is greater than your suffering. I am more lonely than you. I've gone through more than you. I've had a worse sickness than you. This kind holds tight to self-pity.
Pride of other-control (opposite to self-control) — It is the inability to tolerate a situation unless in charge of it.
"My life shouldn't be subject to anyone else's orders. I should be the one to decide what others do. I can do things better than others so they have no rights to make demands of me."
Pride of Vanity — is rooted in "the most important thing in life is that others think highly of me and only have positive opinions of me."
This kind cannot endure not having attention or recognition. It tends towards presumption, selfish ambition, and craves attention.
Uses "I" often, brags, boasts, or uses negative thinking. If they put themselves down, others will give them the attention they need.
This is often manifested in The Church today in our bragging about our Church being THE best Church…. rah rah sis koom ba-type preaching that puts down others to lift up SELF.
Exclusivity is made manifest in this sin — won't ever go to another's Church even if it is a friend of theirs'.
This is a major cause of DIVISION and denominations. "Only we know how to do worship right", or only we have the best preaching, etc.
Also exclusivity is a Church run only by an elite few instead of each member doing their part or leadership promoting the gifts in others.
Pride of Presumption — says "I can do anything better than you!" For example, giving of medical advise when they are not a doctor or nurse, as if they knew better.
Presumption ASSUMES and "ass-u-me, makes an ASS out of U and ME" as Graham Cooke says.
One example of this in the prophetic is getting a word ie: anger when praying for someone, and instead of asking God what HE wants us to say or do for that; starting to assume the person needs rebuking or deliverance right now, when maybe God wants you to pray for the hurts behind the anger, or to pray on your own for a while without saying anything.
Or maybe He wants you to share HIS LOVE so they abandon the anger from seeing how much God loves them.
"Love leads to repentance." In presumption, it is intolerable for someone else to be higher or to get more recognition or more anointing, whatever!
It says "I can do a better job than others without even preparing." It is intolerable for others to get to do things I am denied. They will think they can order God around even in prayer.
Pride of Rebellion — This form of pride, manifests as not being able to take correction/ unteachableness.
It's like it is saying "move over God, You're hogging the throne for too long!"
It isn't right that I should be restrained from power. Don't run my life God, or I will have to change! And it does not want to change. Notice we war not against flesh and blood.
Pride of Denial — This form refuses to admit there is anything wrong with me.
It will not ask for forgiveness or apologize for that matter. It denies any inadequacy. This form in a person makes us avoid asking for prayer or responding to altar calls, even though it may hit the nail on the head. Remember I said we are usually BLIND to it.
Pride of Passivity — This is accepting misery instead of doing something about it. It says it is right to hurt myself; good to do nothing when a problem exists.
I deserve it, I need to just persevere, like the woman who lives with severe abuse and allows it to continue.
This kind also has a tendency to blame others or situations. It's what we call the martyr complex. Self-pity is a root, and of course, fear! (Remember Pride is thinking more or LESS than what God says of you.)
Pride of Self-Sufficiency — is the opposite to dependence on God.
It says, "I can manage my own life" or " You only get out of life what you put into it" "When I was your age I was already earning a living!"
It always does what is best for self. It rationalizes not giving to the poor, as if they put in a little effort they would have what I have!
I have the right to spend my money on what I want. I earned it' failing to recognize that God gave them their abilities, and can take them away if He wanted.
It lacks compassion for anyone but self. Some scripts: "I'm so terrific, I can tell others what to do!" "I've got the answers and others don't." "I'm better than others because I'm self-sufficient"
"People who are in need are inferior to me and deserve what they get, because I'm not in need!"
In Clinton's inaugural address, He said, "there is no limit to what WE can do!" — no credit to God. Another script: "I've done this for 20 years, so I know everything."
Pride of SELF DEFENSIVENESS — is one I'd like to add because I have seen it in myself so much and many others who have been wounded a lot.
It's like you have to defend your character, and explain things, because you can't stand being thought of any less than what you think is acceptable.
It's so concerned with what man thinks, more than we should be. It presumes when someone says things, that they mean something other than what they said, and has to defend self, but with an angry bent.
In some Churches, including those in renewal, some pastors have built a world ministry, without ministering to the needs of their own people, or without training the youth and others to go, to give them the same opportunity.
It is having the "STAR' mentality.; "I have to be the star!"
It is when we do what we want, or think, instead of listening or looking to God for what to do.
It is going ahead without God, like Saul did in the old testament instead of waiting on God for the answers, or looking to God for what to do daily, hourly, etc.
Decisions should never be made without seeking God for His will. Remember what it says in James "you say next year I'm going to do this or that, but all such boasting is evil. (paraphrasing here)
Pride of Impenitence — This kind says God is an unfair law enforcer. He is never satisfied. God is inept-doesn't like being disturbed. It rationalizes staying the way I am, doing what I want. [Impenitence: feeling no regret about one's own sins].
~ Priscilla Van Sutphin
---
PRISCILLA VAN SUTPHIN is the founder of Upstream Ministries, California, online at www.upstreamca.org and blogtalkradio.com/ Upstream. Donate to Upstream: via secure Paypal by sending as gift to upstream.ca @me.com or send to: Upstream, PMB 545, 14311 Newport Blvd, Suite G, Tustin, CA 9278, USA.