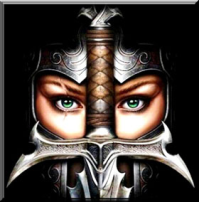 The past few months I have been receiving so many emails from Christian's who are going through intense spiritual warfare. The warfare has been relentless as the enemy continues to discourage people and throw them off course from what they have been called to do. Recently a doctor said to me, Wow I have never seen anyone with such a history as you. I replied, yes thank God that is my history but it won't allow it to determine my future. For those of you who are going through difficult times, I want you to know that those things will soon be your history. Whether it is sickness, financial problems, family or relationship issues stay strong in the face of adversity and don't become weary in well doing. Jesus will not fail you no matter how things appear to be in the natural.
The Lord says I understand your distress and I recognize your burdens but do not fall prey to the deception of the enemy. Resist discouragement even though situations may seem overwhelming. Don't be moved by adverse circumstances but keep your eyes on things above. Don't allow calamities to overwhelm you but take control of your thoughts and use this time as an opportunity to strengthen yourself. Don't be mastered by fear and refuse to give in to anxiety when confronted with stressful situations. As the fiery darts seem to come in ambush do not fear. I will teach you how to quench these fiery darts and extinguish the flames of the evil one with the armor that I have made available for you. Have I not said in My Word that there are many afflictions of the righteous but I will deliver you out of every one of them? Have I not said in My Word that no weapon that is formed against you shall prosper?
Just as I was in the fiery furnace with Shadrach, Meshach, and Abed-Nego I am also with you in the fire of affliction. Do not bow to the opposition, do not break or bend under the pressure. My glory will increase in your life as you learn to resist every fiery dart that the enemy throws at you. You will overcome as your refuse to succumb to his lies. Don't allow oppression to overwhelm you but put on a garment of praise when a spirit of heaviness tries to overshadow you. As you continue to resist the enemy, your character and integrity will be so evident and you will come out as gold tried in the furnace. The battles may be fierce but as you endure hardness as a good soldier and not give in to the circumstances, your faith will grow and you will be more effective in what I have called you to do. Just as grapes are crushed in the wine press through a process, this will bring forth much fruit in your life as you endure, stay strong and steadfast. I will show you how to adjust in hard times because I have created you to be more than a conqueror and to rise above difficult situations says the Lord.
Psalms 144:1
Blessed be the Lord my Rock, Who trains my hands for war, And my fingers for battle.
Isaiah 43: 1- 2
Fear not, for I have redeemed you; I have called you by your name; you are Mine. When you pass through the waters, I will be with you; and through the rivers, they shall not overflow you. When you walk through the fire, you shall not be burned, nor shall the flame scorch you.
Ephesians 6:10
Finally, my brethren, be strong in the Lord and in the power of His might. Put on the whole armor of God, that you may be able to stand against the wiles of the devil. For we do not wrestle against flesh and blood, but against principalities, against powers, against the rulers of the darkness of this age, against spiritual hosts of wickedness in the heavenly places. Therefore take up the whole armor of God, that you may be able to withstand in the evil day, and having done all, to stand.
ELAINE TAVOLACCI Staten Island, NY
www.awordinseason.info
www.TheVoiceOfBreakthrough.com