I was lying down trying to commune with God and asking Him about how to do this project I felt I needed some inspiration and direction from Him on.
Thoughts started floating back to the youths whom I met today at the coffee shop. I did not know till the end, that they were of Arabic descent. I quipped back and forth interjecting into some of their conversation. The first was when they were talking about Hitler and how he pulled Germany out of depression. So I interjected, "…but how did he do that?" and began to explain the money of the Jews, and nationalizing companies just like is being done here. We went on at times while they were talking, and again I would interject.
But as I was thinking on the comments about Illuminatti, and Freemasons running the world. It's like God was giving me a way to talk about this.
Freemasons are very in awe of Nimrod. Their literature exalts him and fables him.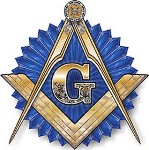 "There is a direct connection between Freemasonry and the ancient Babylonian mystery religion from which the ancient pagan religions of Egypt, Persia, Greece and Rome eventually developed. It all goes back to a man named Nimrod who the Freemasons view as the true originator of their Order. Nimrod was a great Mesopotamian king who founded the city of Babylon [Babel] and established the first great empire after Noah's flood. He is also traditionally associated with the Tower of Babel. According to tradition, Nimrod sought to turn men away from God by setting up a tyrannical government and setting up a new religion. In fact, the new religion centered around Nimrod and his wife Semiramis eventually evolved into Baal worship from which all the pagan religions of the Middle East and Europe later developed. Not only that, according to the Encyclopedia of Freemasonry: The legend of the Craft in the Old Constitutions, Nimrod is one of the founders of Masonry."
See: Freemasonry And The Oath Of Nimrod: The Masonic Connection To The Ancient Babylonian Mystery Religion for the full article.
Wow TYRANNICAL government… does that ring a bell with New World Order?
It goes on to say…
"In fact initiates in at least some forms of Freemasonry are still required to take the "Oath of Nimrod" even today. The Spring 2006 issue of Freemasonry Today (a Masonic publication) tells us that the Oath of Nimrod is part of the initiation process for the "indentured apprentice"…..
The candidate is led into the Lodge by the Deacons, and after prayer, is investigated prior to taking the initiatory oath called the 'Oath of Nimrod'. Nimrod, of course, the grandson of Noah, is mentioned in the 'Old Charges' as a teacher of the Masonic craft and the architect of many great cities in Mesopotamia. The working tools are explained, the Ancient Charges (c.1663) and modes of recognition are communicated, and a pale blue cord is placed around his neck. The ceremony of closing the Assemblage is completed with prayer and a 'seven-fold salute' to The Most High. [ Only their most high is not our Most High ]
In his book entitled "The Arcana Of Freemasonry," Freemason scholar Albert Churchwood traces the origins and development of Freemasonry from ancient Egypt to the present day. In the book Churchwood actually includes the text of the "Oath of Nimrod" which new initiates must take….." end quote
The invention by the masons of this fabrication in their history makes initiates think they are legitimate. But of course it is not absolute truth.
Nimrod was leading people against the orders of God to go out into the earth and procreate, spreading abroad the earth. He was rebellious against God, and like Satan was even trying to attain to a Godly position. He is of course not to be venerated by that. But this brings us to the basis of the New World Order as an attempt to build another TOWER OF BABEL.
EU building similar to tower of Babel.
A team of scholars has discovered what might be the oldest representation of the Tower of Babel of Biblical fame, they report in a newly published book.
David Spangler – former director of planetary initiative of the United Nations said: "No one will enter the New World Order unless he or she will make a pledge to worship Lucifer. No one will enter the New Age unless he will take Luciferian Initiation."
This another "god" Freemasons bow to: Baphomet.
The United Nations was birthed at Bohemian Grove, California. And I was thinking of how the Arabs call us the "Great Satan" and how that fits in this instance for what we a part of birthing.
Recount it says…
"In fact, the new religion centered around Nimrod and his wife Semiramis eventually evolved into Baal worship from which all the pagan religions of the Middle East and Europe later developed."
A lot of Baal worship revolves around sexual perversion. Thus phallic symbols abound in Masonic buildings and symbology. So should we be bowing to leaders who bow to this guy above? REALLY? If we know our senators have, why would we re-elect them as Christians? Do we want to stand for this guy or the ONE we know is truly Lord? GAOTU [ the god of freemasonry, the great architect of the universe is actually Satan ] So why would any Christian bow to this Abomination in our nation ?
Something to consider n'est-ce pas ?
Why would any nation want to align with demonized leaders? Trouble is now we don't have much choice, because Freemasonry has grown and obscurred what some true Christian founding fathers promoted and designed.
IF GOD brought judgment of confusion on those trying to build the first tower of Babel, what do you think HE will do to those trying to REBUILD IT when He destroyed the first one? Those bearing Christ in us the Hope of Glory are to help in the destruction of this evil plan. Our light is to shine in the darkness, and LIGHT overcomes Darkness. Even when it seems it's not for a time during battle. It overcomes the darkness.
Daniel 2:44 KJV "And in the days of these kings shall the God of heaven set up a kingdom, which shall never be destroyed: and the kingdom shall not be left to other people, but it shall break in pieces and consume all these kingdoms, and it shall stand for ever."
THE WIND of the Kingdom of GOD is coming and it brings to fruition Isaiah 60…
Isaiah 60:1-5 AMP ARISE [from the depression and prostration in which circumstances have kept you — rise to a new life]! Shine (be radiant with the glory of the Lord), for your light has come, and the glory of the Lord has risen upon you! [Zechariah 8:23]
2 For behold, darkness shall cover the earth, and dense darkness [all] peoples, but the Lord shall arise upon you [O Jerusalem], and His glory shall be seen on you. [Isaiah 60:19-22; Malachi 4:2; Revelation 21:2-3] 3 And nations shall come to your light, and kings to the brightness of your rising. [Isaiah 2:2-3; Jeremiah 3:17]
4 Lift up your eyes round about you and see! They all gather themselves together, they come to you. Your sons shall come from afar, and your daughters shall be carried and nursed in the arms.
5 Then you shall see and be radiant, and your heart shall thrill and tremble with joy [at the glorious deliverance] and be enlarged; because the abundant wealth of the [Dead] Sea shall be turned to you, unto you shall the nations come with their treasures [Psalm 119:32].
Jeremiah 51:1-5 NKJV 51 "Thus says the LORD: "Behold, I will raise up against Babylon, Against those who dwell in Leb Kamai,* A destroying wind. And I will send winnowers to Babylon, Who shall winnow her and empty her land. For in the day of doom they shall be against her all around. Against her let the archer bend his bow, And lift himself up against her in his armour. Do not spare her young men; Utterly destroy all her army. Thus the slain shall fall in the land of the Chaldeans, and those thrust through in her streets. For Israel is not forsaken, nor Judah, By his God, the LORD of hosts, though their land was filled with sin against the Holy One of Israel."
Video by young guy talking about the last kingdom.
Part 2
From the Apocrapha KJV [ formerly included these ]
2 Ezra [Esdras] 15:10-27 KJV "Behold, my people is led as a flock to the slaughter: I will not suffer them now to dwell in the land of Egypt: But I will bring them with a mighty hand and a stretched out arm, and smite Egypt with plagues, as before, and will destroy all the land thereof.
Egypt shall mourn, and the foundation of it shall be smitten with the plague and punishment that God shall bring upon it. They that till the ground shall mourn: for their seeds shall fail through the blasting and hail, and with a fearful constellation.
Woe to the world and them that dwell therein! For the sword and their destruction draweth nigh, and one people shall stand up and fight against another, and swords in their hands. For there shall be sedition among men, and invading one another; they shall not regard their kings nor princes, and the course of their actions shall stand in their power.
A man shall desire to go into a city, and shall not be able. 18For because of their pride the cities shall be troubled, the houses shall be destroyed, and men shall be afraid.
A man shall have no pity upon his neighbour, but shall destroy their houses with the sword, and spoil their goods, because of the lack of bread, and for great tribulation.
Behold, saith God, I will call together all the kings of the earth to reverence me, which are from the rising of the sun, from the south, from the east, and Libanus; to turn themselves one against another, and repay the things that they have done to them.
Like as they do yet this day unto my chosen, so will I do also, and recompense in their bosom. Thus saith the Lord God;
My right hand shall not spare the sinners, and my sword shall not cease over them that shed innocent blood upon the earth. The fire is gone forth from his wrath, and hath consumed the foundations of the earth, and the sinners, like the straw that is kindled. Woe to them that sin, and keep not my commandments! saith the Lord.
I will not spare them: go your way, ye children, from the power, defile not my sanctuary. For the Lord knoweth all them that sin against him, and therefore delivereth he them unto death and destruction. For now are the plagues come upon the whole earth and ye shall remain in them: for God shall not deliver you, because ye have sinned against him."
~ Priscilla Van Sutphin
---
PRISCILLA VAN SUTPHIN is the founder of Upstream Ministries, California, online at www.upstreamca.org and blogtalkradio.com/ Upstream. Donate to Upstream: via secure Paypal by sending as gift to upstream.ca @me.com or send to: Upstream, PMB 545, 14311 Newport Blvd, Suite G, Tustin, CA 92780, USA.