UK: Keep Praying for Brexit!
Brexit Update
Keep praying for Brexit!
See also HKP Prophetic Word; Mantle of Churchill taken up in the midst of the whirlwind of Wilberforce: The UK: "The Whirlwind of Wilberforce & The Mantle of Churchill"
Check out video: "Johnson could well be hailed as Churchill"!
See also the UK's Daily Express leader:
"Brexit just got real: Germany reacts to Boris' Brexit proroguing plan with genuine fear!"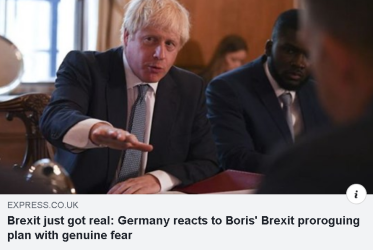 Blessings to you all.
~ by Veronika West
---