Waves of Healing — Horses Loosed
With a recent Vision leading on from these Words of 2018 and 2021, I'm led to re-share today —The Day of Pentecost 2022.
On 1 May 2021, I had a Dream of Waters. This Dream seemed to go on most of the night where I was painting water on a large canvas.
The water was in 5 compartments and ranged from pure waters, to still waters, to mighty darkest blue crashing waves.
The words 'times and seasons' resounded and at one point there was a line of white horses running at speed on the waters.
They were running toward me, as though exiting the canvas and they were buoyant upon these waters.
My eyes were drawn specifically to the mighty dark blue crashing waves and it seemed as though they were coming out of the canvas, they couldn't be contained.
The five compartments reveal God's Grace to be released in this season –
To be gifted the faith to run and not sink.
To spill out from the old church system, (borders) to run with The Holy Spirit fire.
To heal the sick (clear waters).
To appoint and gain momentum in the building of unity. (Horses running in unison).
To secure and apply heavenly rest (still waters) in the anchor of Christ.
I also heard The LORD saying, "Hold your horses!"
I sensed a calling to hunker down in rest before the 'loosing of the horses'.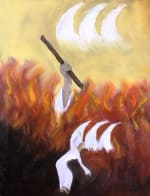 In March 2018 I dreamed I saw a painting on a huge canvas that featured Moses arm holding the staff.
The 3 white waves were being painted by Kathryn Kuhlman and she was wearing white and was bowing over as if to say to other prophets painting above her — "It's your move now".
The prophets were creating this painting, yet Jesus wrote at the top stating, "Do you think I came for nothing?"
The painting illustrates the following aspects:
Waves of Healing.
Kathryn Kuhlman bowing low to hand over to the new generation.
Moses arising staff outstretched to part the sea.
The fire and the yellow glory light and healing of the land of UK.
There were 3 moves of The Holy Spirit (waves) between 50-70 years ago: Charismatic, Messianic and Jesus movement. These waves of revival were powerful yet short lived.
Katherine Kuhlman was powerful in the Healing Ministry. A new Healing Mantle is about to break forth.
The mantle of Kathryn Kuhlman is about to be resurrected amongst the body of Christ. God's children will carry heavenly authority and fire in this new era. Signs, miracles and wonders will mark this movement.
Those who have been refined and tested will become forerunners of this mighty move of The Holy Spirit.
This first wave will be brief to enable The Church to be prepared and better equipped for the follow-on waves. Hallelujah!
In the excitement and disruption of the first new wave, the religious Church will try to stop this move because of fear and loss of control. They will even demonise this move and try to shut it down, but to NO avail!
Jesus said, "Do you think I came for nothing?" is a rebuke to the unbelief in the children of God.
We need to seek first the Kingdom of God by coming into the place of intimacy!
There is a confirming connection to a Vision I received on 5th May 2022.
I saw a White Horse with a purple saddle being tied to a gate that was a point of entry to promise. This gate was a place to wait and guard with vigilance those Kingdom promises.
A Donkey appeared next to the horse a few days later.
The LORD is speaking that we are going from his command to "hold your horses", to 'loosing' these horses.
The Donkey represents an entering in — just as Jesus rode into Jerusalem, The LORD is going before his faithful children into their promised land with Water and Fire.
There is a healing coming into the nation of The United Kingdom, and The Nation's worldwide and it begins in this year of 2022.
Ecclesiastes 3:6 speaks of a time to seek, and a time to lose; a time to keep, and a time to cast away.
It is time to put down actions and mindsets that are from the past, and The LORD says, "Be excited for the exit."
Once an exit door is closed, you cannot re-enter. The doors and gates of the new are opening and we can now look through the gap to find clearer instruction on living those promises.
We are to stand in the gap of prayer for those who are blind to this move of God.
First published on HKP May 2, 2020 as "Waves of Healing"
~ Yvonne Coombs
---
Yvonne Coombs. Please also see Yvonne's Prophetic Art here at "Yvonne's Paintings" on Facebook and on Instagram @y.coombs.art.