A broken egg! Who can cause you to bring forth?
"Who has heard such a thing?
Who has seen such things?
Shall the earth be made to give birth in one day?
Or shall a nation be born at once?
For as soon as Zion was in labor, she gave birth to her children.
Shall I bring to the time of birth, and not cause delivery?" says The LORD.
"Shall I who cause delivery shut up the womb?" says your God," Isaiah 66:8-9.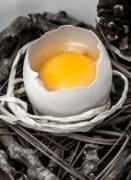 As I was meditating upon The LORD, I saw a broken egg. The egg was a beautiful yellow yoke of perfect form and shape.
As I begin to ponder on this asking for what it meant — I found that an egg that is cracked opened, cannot be birthed.
Meaning, whatever was going to happen through the birthing process will not occur, because of either carelessness or an accident that has occurred of no fought of ones own doing!
Sometimes things just happen in life that causes an egg which is supposed to be birthed, not to occur. It could be the timing is all wrong, or just plain carelessness of not being watchful unto prayer!
It's not to say there will not be other eggs hatched through fertility — but this life will not occur!
The LORD said that the eggs symbolizes life, new ideas, promises, dreams, aspirations, life cycles, new beginnings, hope, fertility; reproduction, development and growth, abundance, resources, wealth, prosperity and much more — even a lost bloodline; a carrier of destiny.
In this vision of this egg, it had no baby in it when I observed it. It was not rotten, but a freshly broken egg that had fallen perfectly and had such a beautiful form to it! The color of the yoke was absolutely golden yellow.
The LORD gave me Job 39:13-18 (MSG),
"The ostrich flaps her wings futilely- all those beautiful feathers, but useless!
She lays her eggs on the hard ground, leaves them there in the dirt, exposed to the weather, not caring that they might get stepped on and cracked or trampled by some wild animal. She's negligent with her young, as if they weren't even hers. She cares nothing about anything. She wasn't created very smart, that's for sure, wasn't given her share of good sense. But when she runs, oh, how she runs, laughing, leaving horse and rider in the dust."
I believe that God is saying that in this season, how fragile life can be and oh how we take it all for granted like the ostrich in this portion of scripture!
She flaunts her eggs as though the life of these eggs matters not. She is without wisdom and does not take into account that because these eggs or on a hard surface at any given moment she could loose what is a treason the inside of these fragile shells which is a yoke that can bring much life an prosperity for the next generation!
Oh how my heart weeps for this poor ostrich. She seems to have no brain in her poor head; no wisdom or any knowledge in how to protect that which God has privileged her to carry as a mother!
When I examined this I had many tears in my heart I felt sympathetic and empathetic for this poor creature it seemed she was a creature who the Bible says was full of life and very energetic.
For, scripture says, "But when she runs, oh, how she runs, laughing, leaving horse and rider in the dust."
Meaning, this poor ostrich had something so valuable that God had given her she was a person who could out run the best of them!
She had a happy heart, a competitive heart to take on her rivals and wasn't afraid to take on those who were her opposition in order to win in the race.
I believe that God in this season is going to use your weaknesses and turn them into strengths in this season!
You may look like you are not coming out of this situation — like the ostrich that has no wisdom or knowledge in how to protect the egg God has given her — but God because of your weakness like the ostrich is going to cause you to get back in the race and what looked like defeat is going to be a blessing to you!
And, those who have mocked you and made fun of you like the ostrich are going to eat your dust as you energetically ride in the wind while God protects the promises he has made unto you in this season!
No more broken eggs — but you are going to birth what God has given unto you!
For, God in this season wants you to keep your eyes on the prize like the silly ostrich in this season!
For, I heard the Father say in my spirit, "Come unto me, all ye that labour and are heavy laden, and I will give you rest. Take My Yoke upon you, and learn of Me; for I AM meek and lowly in heart: and ye shall find rest unto your souls. For My Yoke is easy, and My burden is light,"" (Matthew 11:28-30 KJV)
For, The Father knows and understands — like the ostrich — when you are tired, it seems like burdens are so heavy that you simply don't have the strength or the endurance or not even the wisdom to carry anymore the things He has planted on the inside of you to birth any longer, and that because of some environmental factors that surround you — your egg has broken.
It seems as if all hope is lost and it seems as though there is simply no way out, unless you leave your egg behind, thus risking others to destroy the plans, promises and the destiny He has promised unto you.
But no worries, because you are going to launch out into the deep and you are going run and not be weary and you are going to walk and not faint.
Those who thought you would not be successful are going to see nothing but the dust in their eyes!
~ Apostle Geraldine Fisher
---
Apostle Geraldine Fisher has a World-Wide-Social Media Net-Work Ministry. As a Missionary, God moved her into the Office of a Prophet, revealing to her the qualities of a True prophet, humility, humiliation, loving others, interceding in prayer, as she keeps her own life clean to accurately hear from God. Since hearing the audible voice of God calling her to ministry, she's been called to intercede and pray for others in ministry as God speaks, instructs, directs and gives prophetic words for her to give to others. God promised He would bring her to sit and to learn before great men, all of which He did!