Avenues of Victory in Christ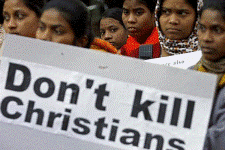 In teaching his disciples and followers, Jesus was clear to them that persecution was to be their lot and portion:
Matthew 13:21 "But he has no root in himself, and is temporary. For when tribulation or persecution arises on account of the Word, he immediately stumbles."
Mark 4:17 "But they have no root in themselves, but are temporary. Afterward when affliction or persecution arises for the Word's sake, they are immediately offended."
John 15:20 "Remember the word that I said to you, The servant is not greater than his master. If they have persecuted Me, they will also persecute you. If they have kept My saying, they will also keep yours."
Acts 8:1 "… And in that day there was a great persecution on the church at Jerusalem, and all were scattered throughout the regions of Judea and Samaria, except the apostles."
Romans 8:35 "Who shall separate us from the love of Christ? Shall tribulation, or distress, or persecution, or famine, or nakedness, or peril, or sword?"
Second Corinthians 2:7-9 "But we have this treasure in earthen vessels, so that the excellence of the power may be of God and not of us; in every way having been troubled, but not having been hemmed in; having been perplexed, but not utterly at a loss; having been persecuted, but not having been forsaken; having been thrown down, but not having been destroyed…"
Galatians 6:12 "As many as desire to look well in the flesh, these compel you to be circumcised; only lest they should suffer persecution for the cross of Christ."
Second Timothy 3:12 "Yea, and all who desire to live godly in Christ Jesus will be persecuted."
As it was for them, so it will be for us too, when we are preaching or living a full Gospel life in Christ. The enemy is aware, fully aware, of the dangers which an active and praying full-gospel living and preaching Christian poses to him, and he will spare no effort to thwart, to squash and to eradicate that threat entirely. That means eradicating us.
What many Christians seem to fail to realise, is how effective they are or can be for Christ, even before they speak – indeed, without even speaking, as a matter of fact. The Lord Jesus demonstrates this in His instruction as to how His followers were to conduct themselves on mission trips. Luke 10:8-9 exemplifies:
"Whenever you enter a town and they receive you, eat what is set before you. Heal the sick in it and say to them, 'The Kingdom of God has come near to you.'"
Jesus was saying to them effectively, that if they live their lives correctly, then the last thing they need to do to evangelise, to talk. Jesus' followers established themselves by their fellowship and friendship first, then their selfless deeds. Only then were they permitted to talk. Basically, their lives did the talking for them, as the Holy Spirit converted their hosts. The words Jesus gave them to say were not an exhortation to follow Christ, were not the Sinner's Prayer, but were an explanation to the hearers of what had just happened in their lives to change them. There words were to give them understanding of the new circumstances in which they had found themselves.
Living a full Gospel Christian life, is by and in itself, a challenge to Satan. The result, is persecution.
Revelation 12:11 wraps all this up by explaining to us how the martyrs in Christ have "overcome" Satan, have conquered him, even although it ended in their deaths:
"And they have conquered him [Satan] by the blood of the Lamb and by the word of their testimony, for they loved not their lives even unto death."
Yes, Revelation 12:11 gives us three avenues by which Christians may overcome Satan and gain victory for Christ:
1 By the blood of the Lamb.
2 By the word of their testimony.
3 They loved not their lives even unto death.
Let's look at each of these three in turn:
1 By the blood of the Lamb.
As the old song has it, "There is power, power, wonder-working power, in the blood of the Lamb.." The victories which we get over the enemy are always directly reliant on the blood of the Lamb, on the propitionary sacrificial death of Jesus on the Cross of Calvary. The crudity of our sin resulted in an equally crude sacrifice comprising multiple mock trials, humiliations, beatings, scourgings and a death on a cross. Yes, when we overcome it is always as a result of the blood of the Lamb, the blood which Jesus willing shed for us, that we may be redeemed. It bears repeating: By the blood of the Lamb we overcome the enemies of the Lord and have victory in Christ.
2 By the word of their testimony.
If we have no testimony for Jesus, we have no part of Him. The word testimony comes from the Greek 'μαρτυρία' or 'marturia' and means giving witness. In giving a testimony for Jesus, we are being a witness for Him. Giving a testimony for Jesus is declaring Him and who He is, and what He has done for us in our lives. It is telling others what we believe and that we trust in Jesus as our King, as our Lord and as our Saviour. A Christian cannot deny Jesus, for as Matthew 10:33 says:
"… whoever shall deny Me before men, I will also deny him before My Father in Heaven."
Standing in a church or in a church group and giving your testimony to the 'oohs' and 'ahhs' and 'Amens' of fellow Christians does not fulfill the intent of scripture here. What overcoming is there in that? Building up, yes; exhorting, yes; supporting, yes; but not overcoming. Marturia, giving testimony, bearing witness in the biblical sense, means standing, even at the risk of one's very life, and witnessing for the Lord Jesus Christ before a hostile audience. This is the true meaning of marturia; being prepared to die and to be a martyr for Jesus.
When we do this, when we risk all, when we give our testimony at the risk of our own life and position, we overcome the enemies of the Lord in the face of those who oppose Him, and have victory in Christ.
3 They loved not their lives even unto death.
If the Lord Jesus Christ is the centre of our lives and is the first love of our lives, there is a chance that we may love Him even unto death. But if Jesus is lower down the list of important things to us, we cannot say honestly with forethought, that we love Him unto death.
It is all a matter of priorities. Jesus was quite adamant, as was God, on our required duty in this matter, saying, "…. You shall love the Lord your God with all your heart, and with all your soul, and with all your mind" (Matthew 22:37). That requirement is not met with other than a first place ranking in our lives.
Second Corinthians 3:5 says that "… our sufficiency is of God; who also has made us able ministers of the new covenant; not of the letter, but of the spirit; for the letter kills, but the Spirit makes alive." Thus the question for Christians is not the exact rules by which we lead our lives (the letter of the law to which we submit) but to the Spirit behind the rules which gives us life. Why we are doing things and how we are doing things, are equally important as what we are doing. Remember, even if we are doing the right things, God says "… man looks on the outward appearance, but Jehovah looks on the heart" (First Samuel 16:7).
Love is the basis for our service for the Lord. On love, we need to fulfill our service around three things: the blood of the Lamb, the word of our testimony and love the Lord our God with all our heart, all our soul, and all our mind, even unto death.
In that and in that alone, do we achieve the avenues of Victory in Christ set out in the Bible for us.
Amen.