Baptism in the Holy Spirit – a Resurgence…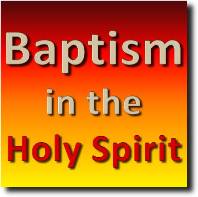 I have been prophesying that there would be a resurgence of the Baptism of the Holy Spirit in the church and that is beginning to take place at least in the meetings that I have been in lately. I said that it would be a greater outpouring than it was in the early church. I am seeing a deep hunger for it right now. I have seen many in the last few weeks coming and asking for this wonderful gift that the Lord died to empower His people with! Tonight I saw and felt the power so strong as one lady was receiving it that it knocked me backwards. There is a Tsunami of God's Spirit getting ready to be poured out upon the earth such as we have not seen.
When I was Baptized in the Spirit nearly 30 years ago now it changed my life forever! These are the things that I noticed happened when I received Holy Spirit..
I opened the Bible and the words were as if they leaped off the page!! I finally understood what my mother had been reading to me for years. So the Spirit of wisdom and revelation began to be a part of my life.

His love began to burn in me for people. I never thought I could love like that.. God just filled me with His love for others.

I began to pray in the Spirit and revelation would come and I began to move in the gift of prophecy, Word of knowledge, and tongues and interpretation of tongues. Word of wisdom..

God would begin to deliver me from many fleshly habits and I had overcoming power! He developed the fruit of the Spirit in me.

I had a boldness to be a witness to others.
If you have not received this awesome, amazing, life changing gift, the Word says that as you ask for it He will give it to you! Receive it just as you did your salvation! You will never ever be the same.. I promise!!
When I received the holy Spirit, I came home unsure that It was a gift from God so I asked Him to show me. I honestly sat down and flipped open my Bible and it fell open to these scriptures in Luke 11:9-13,
"So I say to you, Ask and keep on asking and it shall be given you; seek and keep on seeking and you shall find; knock and keep on knocking and the door shall be opened to you. For everyone who asks and keeps on asking receives; and he who seeks and keeps on seeking finds; and to him who knocks and keeps on knocking, the door shall be opened. What father among you, if his son asks for a loaf of bread, will give him a stone; or if he asks for a fish, will instead of a fish give him a serpent? Or if he asks for an egg, will give him a scorpion? If you then, evil as you are, know how to give good gifts [gifts that are to their advantage] to your children, how much more will your heavenly Father give the Holy Spirit to those who ask and continue to ask Him!"
So you see if you ask Him for the Holy Spirit,you will not receive something from the enemy! He is faithful to His word! Just ask and keep on asking!!
– by Jo Ellen Stevens
Arise Shine!
---
Jo Ellen Stevens of TCIC Ministries is a Prophetic speaker, author, worshiper and intercessor. She has ministered with her husband for 23 years and was a worship leader at the Assembly of God for many years. She is an ordained minister (Restoration Ministries) and works with Restoration Ministries in their Ministry Rooms doing prophetic worship with her husband. She has taught many bible studies and have led many intercessory prayer groups.