Bible Scriptures the Rabbis Would Ignore
This is what The LORD put on my heart this morning, the part of Isaiah that many Rabbis would ignore teaching on Isaiah 53:1-12.
"Who has believed our report? And to whom has the arm of The LORD been revealed?
For He shall grow up before Him as a tender plant, and as a root out of dry ground. He has no form or comeliness; and when we see Him, there is no beauty that we should desire Him. He is despised and rejected by men, a Man of sorrows and acquainted with grief. And we hid, as it were, our faces from Him; He was despised, and we did not esteem Him.
Surely He has borne our griefs and carried our sorrows; yet we esteemed Him stricken, smitten by God, and afflicted. But He was wounded for our transgressions, He was bruised for our iniquities," Isaiah 53:1-5.
The CHASTISEMENT for our peace was upon Him, and by His stripes we are healed.
The Amplified version says:
"But He was wounded for our transgressions, He was crushed for our wickedness [our sin, our injustice, our wrongdoing]; the punishment [required] for our well-being fell on Him, and by His stripes (wounds) we are healed. Isaiah 53:5.
This is the part The LORD was focusing on….
The punishment which is what chastisement means, was upon him for all of our sins and by his stripes we are healed.
The religious Church takes away from this. His Grace is much greater than what is taught, and yet not to be trampled on.
Remember that the Pharisees hid their sins, so religious spirits hide there adulteries. The Pharisees taught the right thing because Jesus told the people to obey them. But they didn't do what they taught others to do.
When your child makes a mistake, I will say for the sake of the scripture, 'sins against you' and doesn't listen, do you resent him or do you forgive them when they admit it?
If a Christian has made a mistake, do you forgive them if they're repentant or not?
Jesus said… "Whose sins you forgive, they are forgiven them. Whose sins you retain they are retained." (John 20:23)
That's why, if we don't forgive, we hold people in bondage to their sin.
If our hearts are like Jesus, which is what we all go for, then we will NOT hold on to bitterness or resentment. To love unconditionally like Jesus, then we have to be like Our Good Father who forgives when we repent.
Persons who turned away in their heart from sin, but still go on sinning when there's a stronghold in their soul, so Jesus instructed us to not go and sin again (woman caught in adultery) but He also knows the things that made us the way we are, the bondages from the past generations that keep us in sin until we repent of them.
So let this new year coming be a year where we repent because this nation as a whole really needs to repent for a lot of things that have gone on. Especially our pride.
For example, we deny racism. "Oh it's not a problem in this country," we say. Well some say….
Well, is that true?
It may not be as bad as in the 60s or the 50s or the 40s… but it still needs to be eradicated. People need to be judged on their behavior, not on their skin color, and it's so easy when the person who offends you is of another race, to blame and get sucked into racism.
It may not be in every area of our nation but there are still pockets in our nation and especially among the rich where they speak and think negatively about other races.
And Jesus said it would be so, as He said in the end times nation would come against nation. But the word for nation there is the Greek ethnos!
It is the work of witchcraft and anti-Christ to divide… and witchcraft has grown.
The day before yesterday I was out doing errands and in three places smelled the spirit of division which smells like a skunk.
When I got home and shared it with a friend who doesn't live far from me, she also had smelled it when she was out at the marketplace that day.
So God was emphasizing this, I believe, because the division has grown and it's a spirit and we need to fight it on our knees, and by sowing seeds of love to other races.
This is a good time of the year to remind us that humility is needed in this nation.
The early Christians did not fight the Roman Empire with swords and clubs, but with love and a demonstration of The Kingdom of God. They did have to hide and use God's wisdom.
God will do startling miracles in this hour to hide and provide and to demonstrate His Kingdom to our enemies.
Jesus instructed us to love our enemies; to be good to those who hate us; to pray for those who spitefully use us.
Keep the faith and fight on your knees and in the marketplace, in your neighborhood, sowing seeds of truth and love, however Jesus tells you to.
Repent of any sins daily; washing your feet daily as He told us to do.
All we, like sheep, have gone astray. We have turned, every one, to his own way; and The LORD has laid on Him the iniquity of us all.
He was oppressed and He was afflicted. Yet He opened not His mouth; He was led as a lamb to the slaughter, and as a sheep before its shearers is silent. So He opened not His mouth.
He was taken from prison and from judgment, and who will declare His generation?
For He was cut off from the land of the living; for the transgressions of My people He was stricken. And they made His grave with the wicked — but with the rich at His death, BECAUSE HE HAD DONE NO VIOLENCE, nor was any deceit in His mouth. (Isaiah 53:6-9)
Yet it pleased The LORD to bruise Him; He has put Him to grief. When You make His soul an offering for sin, He shall see His seed, He shall prolong His days, and the pleasure of The LORD shall prosper in His hand.
He shall see the labor of His soul, and be satisfied. By His knowledge My righteous Servant shall justify many, for HE shall bear their iniquities.
Therefore I will divide Him a portion with the great, and HE shall divide the spoil with the strong, because He poured out His soul unto death, and He was numbered with the transgressors, and He bore the sin of many, and made intercession for the transgressors. (Isaiah 53:8-12)
Thus…..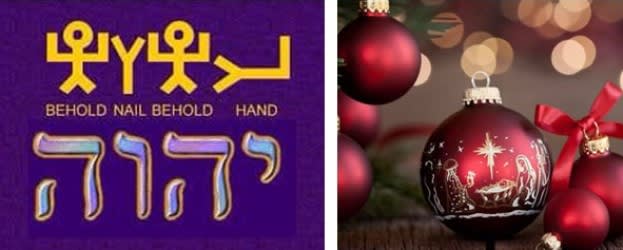 ~ Priscilla Van Sutphin
---
PRISCILLA VAN SUTPHIN is the founder of Upstream Ministries, California, online at www.upstreamca.org and blogtalkradio.com/ Upstream. Donate to Upstream: via secure Paypal by sending as gift to upstream.ca @me.com or send to: Upstream, PMB 545, 14311 Newport Blvd, Suite G, Tustin, CA 92780, USA.