Chicago, Chicago, I AM Calling You Out!
Chicago, Chicago, I AM calling you out of the darkness that has tried to cover the city and its suburbs.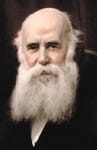 I AM calling you out into My Glory. The wells have been re-dug from John Alexander Dowie for revival and My presence to rest in you once again.
Is it any wonder that the enemy has fought so hard to overtake and win this city who once gave in to ME, Holy Spirit, and Jesus to rule and reign? For even Dowie had a fight on his hands until I came in to overcome all that was before him. However, he left and the city went back into the enemy's hands.
Do not think that this battle is over.
Do not think that all that you have done is futile, that it has been overtaken by the enemy.
Do not think that I have not known of the disappointment, hopelessness, despair, death, and destruction that some have gone through in battling the enemy of your soul both physically and spiritually.
Know I have been watching and waiting for the right time and place to bring forth the GOLD of MY GLORY that once rested in this city.
I say to you, this will be a city of revival that will influence the world. That is why the enemy has tried so hard to maintain it and keep what he thinks is his.
I have STRATEGICALLY PLACED MY FAITHFUL WARRIORS, APOSTLES, PROPHETS, and MY REMNANT.
They are ready to move at My command and the time has come to ASSAIL the walls of the city with even greater fasting, intercession, and declarations. DO NOT GIVE UP!
Let the SHOUT OF THE LORD AND THE SHOFARS BLOW for BREAKTHROUGH TO COME FORTH!!!
For just as the walls of Jericho came down, so will the walls of Chicago come down. So will the enemy flee for his life, for he knows when the walls are down, he has lost the battle.
A vision then opened before me and I saw the Body of Christ gathering in unity throughout the city of Chicago for prayer, fasting, and declarations. At a preset time, the Shout of the LORD and Shofars came forth in the Glory of God, BLASTING THE WALLS OF THE CITY INTO DEMOLITION WITH THE BREAKER ANOINTING.
I saw the enemy fleeing as fast as he could go, in all his many forms to leave so that he would not be destroyed as well.
Come forth, CHICAGO, for I'm calling you out of the darkness into My Kingdom, into MY GLORY REALM, that you would be restored and take back all that the enemy has stolen (Proverbs 6:30-31). That MY CHICAGO AND MY PEOPLE would become all that I've called them to be.
"Men do not despise a thief if he steals to satisfy himself when he is hungry. But if he is found out, he must restore seven times (what he stole); he must give the whole substance of his house (if necessary-to meet his fine)," Proverbs 6:30-31 (AMPC).
God Bless You!
~ Beverly Juelsgaard-Fischer
---
God has allowed Beverly to minister all over the world through the internet, and in person through conferences, church services, and small groups. Beverly's heart is to see the Body of Christ walk in the freedom that God means for them, so they can develop a deep intimacy with Father God, Jesus and Holy Spirit. She ministers to others through prophetic words, and other gifts, bringing breakthrough and calling people into a constant pursuit of His Heart to actively hear His voice for themselves and others. Beverly lives near Danville, VA.