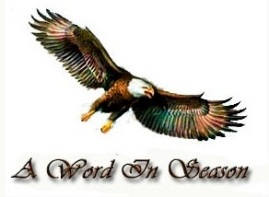 There are several times in the New Testament where Jesus raised people from the dead. In the book of Luke, Jesus touched a coffin and said to the dead man, "Young man. I say to you Arise." The dead boy got up and began to speak. This word "arise" is the same exact word which He used when He raised a young girl from the dead in the book of Mark. The word for arise means to awaken, raise up, stir up and recall the dead back to life. When He raised Lazarus from the dead who was bound with grave clothes, and his face was wrapped with a cloth, Jesus said to them, "Loose him, and let him go."
The Lord showed me that there are many Christians who are spiritually bound and some who are spiritually dead. Jesus wants to resurrect those of you in the body of Christ and return you to the abundant life once again.
The Lord says:
"I am releasing those of you who are spiritually bound and in shackles, and loosing you to be free once again. I am cutting away the restraints that have held you captive, and releasing you into a life of liberty. I am raising those of you who are spiritually dead back to life. As you come out of this place of complacency, you will return to the place of peace which you have once known. Now is the time to readjust your focus, and reconsider your intentions.
When all hope seemed to be gone, those of you who have stood your ground through difficult times, will come back stronger. As I remove the grave clothes and shake all that lies dormant in your life, you will once again be radiant with My glory and you will be arrayed in garments of white. Allow Me you awaken you from spiritual death and slumber, and you will once again come into alignment and become all that you have been created to be.
As many of you have come face to face with the enemy, it has made you stronger to be able to deliver those who are trapped and imprisoned. As you arise once again you will be able to release others who are in the same trap as you have been held hostage, and deliver others from the very thing that you have been set free from.
Many of you have fought the good fight and not allowed the calamities that have come against you to overwhelm you. You have taken control of your thoughts and used these adverse situations as an opportunity to strengthen yourself. You have learned to master fear, you have refused to give in to anxiety when confronted with stressful situations. Go and teach others the same.
As you have been tenacious in spiritual warfare, others will be inspired by your testimony. As you allow Me to continue the work that I have began in you, you will begin to walk in a life of freedom and fulfill all that I have placed in your heart to do" says the Lord.
"When He came in, He said to them, "Why make this commotion and weep? The child is not dead, but sleeping." And they ridiculed Him. But when He had put them all outside, He took the father and the mother of the child, and those who were with Him, and entered where the child was lying. Then He took the child by the hand, and said to her, "Talitha, cumi," which is translated, "Little girl, I say to you, arise." Immediately the girl arose and walked, for she was twelve years of age. And they were overcome with great amazement" Mark 5:39 – 42.
"Then He came and touched the open coffin, and those who carried him stood still. And He said, "Young man, I say to you, arise." So he who was dead sat up and began to speak. And He presented him to his mother" Luke 7:14-15.
"Now when He had said these things, He cried with a loud voice, "Lazarus, come forth!" And he who had died came out bound hand and foot with grave clothes, and his face was wrapped with a cloth. Jesus said to them, "Loose him, and let him go"" John 11:43 -44.
---
ELAINE TAVOLACCI
Staten Island, NY
www.awordinseason.info
www.TheVoiceOfBreakthrough.com