Power, Glory Poured Out: The Results will…….
I have heard the Lord speaking about POURING OUT HIS GLORY. I have seen a vision of the GLORY COMING DOWN AND IMPACTING THE TOP OF THE MOUNTAINS IN NEW MEXICO, AS I WAS GIVEN MANY PROPHETIC WORDS ABOUT THE EVENT. The Glory looked like a huge funnel Cloud coming down out of a huge cloud. It hit the top of the Jemez Mountains near where we were living at the time, and than ran down the valleys into all places in New Mexico. When I saw that cloud of Glory, my wife, Celeste saw it in a vision up close. She said it was like liquid fire or Lava, but clear as a crystal. It was moving into every house and business in the town and into bars and clubs. The Holy Spirit was driving out demons. I heard the words spoken in my spirit that the demons were going to leave and go toward the ocean. My wife said she saw them leaving in a huge cloud.
I saw a long line of Angels lined up coming down to Earth, and Celeste saw an Angel up close with a Sword.
I saw a sea of people coming up under the big tent and thousands of Native Americans in New Mexico were being saved. [You must know that New Mexico has a very large Native American population]. The Lord told me that he would undo what the Catholic Church and Religion…. did to the people and native Americans in New Mexico. He said that he would OPEN UP THE PUEBLOS TO THE PREACHING OF THE GOSPEL. (Many of the Pueblos in New Mexico are closed to the Gospel and it is against their law to preach Jesus there).
I saw cars coming out of the City of Albuquerque bumper to bumper for as far as I could see. I asked the Lord what did it mean? He told me that they were coming to see what happened and to find the truth.
NO DOUBT IN MY MIND, THIS VISION CELESTE AND I HAD IN 2007 IS FIXING TO HAPPEN. The recent word that I received did confirm it again. (Video below made in my Desert) HE SAID I WILL POUR OUT MY GLORY LIKE NEVER BEFORE. SEE THE WORD "I WILL DO IT AGAIN".
I am hearing the lord tell me that he is sending us through open doors. This July 10 we leave by car to travel into Washington, DC to join the Awakening beginning there. I believe God HAS US GOING FOR MUCH MORE, BECAUSE I HEAR HE IS OPENING UP DOORS. I have desired to take the Tent and preach across America. IT COULD BE NOW. Pray for us as we GO. The Lord has already given us the Tent and Truck and equipment. It is all paid for and ready. We have already used it a lot, but now I hear the Lord saying take it and Go OUT…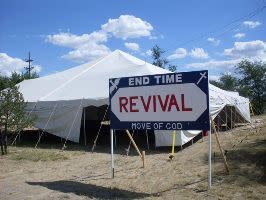 Glory, Glory, Glory.
GOD WILL TURN THINGS AROUND IN THE USA. THIS NATION WILL BE SHAKEN. And I know as well the Glory will not just be for here, but it will be ALL OVER THE WORLD. POURED OUT AS NEVER BEFORE.
~ Desert Prophet Ken Dewey
---
Evangelist/Prophet/Pastor Ken Dewey is the founder of "OUT OF THE DESERT MINISTRIES" in Belen, New Mexico, USA. He writes on this Web Site, many Prophetic words, Sermons and teachings while leading people into true church settings and preaching in an End Time Gospel Ministry. NOTICE: One of the ways you can get involved in this OUT OF THE DESERT ARMY is to become a PARTNER or to GIVE A DONATION. We are believing God for many more Monthly Partners to stand with us in Monthly Giving and Offerings. If you have a desire to help and give, please know we need your help. God is sending people as I write to this place. We need your help and prayerful giving to enable us to do more for more people. Please send you pledge to becoming a Monthly Partner or to sow an offering into this Ground. To make a donation to OUT OF THE DESERT MINISTRIES please send to: PO BOX 223, BELEN, NEW MEXICO. PLEASE PRAY ABOUT SENDING A LOVE OFFERING TO SOMEONE WHO IS IN THE MIDST OF THE BATTLE FOR SOULS.. AND TO OPEN BLINDED EYES OF THOSE WHO ARE SLEEPING IN THE BODY OF CHRIST. WE NEED YOUR HELP TO DO ALL THAT GOD IS SAYING FOR US TO DO. THANK YOU ALL …