Sri Lanka: Continued Harassment of Christians & Fears for the Future
"For you are not a God who delights in wickedness; evil may not dwell with you," Psalm 5:4 ESV.
Christians in Sri Lanka have continued to face attacks in 2019.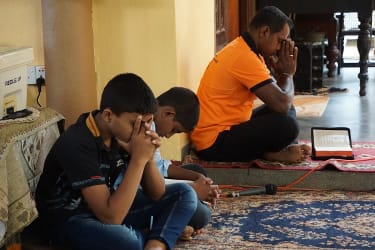 According to the National Christian Evangelical Alliance of Sri Lanka (NCEASL), there have been 83 recorded incidents in the country, including harassment by officials, abuse, and attacks.
In October, a Divisional Secretary, along with an officer of the Deniyaya police station, questioned a pastor about the legality of his church, the Hokma Bible Centre.
They urged him to obtain authorisation from the Divisional Secretariat to conduct religious activities, even though the church has been operating at the location since 2007 and the pastor has valid papers for it.
Until then, they demanded an immediate end to all services. They also insisted that they should be informed if any church is functioning in the area.
Attacks on Sri Lankan Christians came as Gotabaya Rajapaksa, the candidate representing Sri Lanka People's Front, the Sinhalese-Buddhist nationalist party, won the presidential elections in November.
This took place amidst some of the worst political instability and violence the country has seen.
In a speech soon after he was elected, Rajapaksa called for future cooperation: "Even though I knew I could win the presidential election with the support of the Sinhala people alone, I made a special request to Tamil and Muslim people to be partners in that victory. But their response was not to my expectation."
He continued, "But as your new president I ask you again to rally around me as true Sri Lankans for the sake of the future development of our country."
Sinhalese-Buddhist nationalists hope Rajapaksa will usher in another golden era for the nation's ethnic majority.
"We built an ideology that the country needs a Sinhala leader who does not bend down in front of minorities," claimed Galagoda Aththe Gnanasara, a monk and nationalist leader of Bodu Bala Sena (Army of Buddhist Power), a Sinhalese-Buddhist nationalist organisation responsible for several anti-Christian and anti-Muslim riots that went unchecked and is alleged to have the protection of the Rajapaksa government.
Many are justifiably worried about what Rajapaksa's election will mean for religious harmony in Sri Lanka.
Buddhist nationalism and violence against Christians have increased in resricent years.
Earlier this year, self-radicalised Islamist extremists bombed hotels and churches during the Easter Sunday attacks, killing more than 250 people.
---
HOME GROUP PRAYER
Heavenly Father,
We pray for your children in Sri Lanka.
We pray that the new government will speak out and take action against those who persecute minorities and those of other faiths.
We ask that acts of violence and harassment against our brothers and sisters in Christ in Sri Lanka end.
We give thanks for the faith of our brothers and sisters in Sri Lanka who have continued to praise you and worship you and spread their faith in the face of persecution and harassment.
We pray that those who preach hate against minorities and those of other faiths will be silenced and Sri Lanka can be a place of religious freedom and ethnic peace.
We remember the violence and destruction which took place in a terrible civil war and pray for the victims of that period and those who still suffer its consequences.
We pray that we will each love our fellow human beings for you have created us all in your image.
May the Christian message of peace spread throughout all of Sri Lanka and the rest of Asia wherever Christians face persecution.
We give thanks for your steadfast love which sustains us through all the difficulties we face in life.
We pray that you will watch over our brothers and sisters in Sri Lanka who are doing your work and sharing your message for the benefit of all.
In Jesus' name we pray.
Amen.
---
Materials used by kind permission of the original author.