The Cockatrice — The Spirit of Injustice
The Cockatrice
also known as
The Spirit of Injustice
The following article is edited from the book "Spiritual Housekeeping – Sweep your life free from Demonic Strongholds and Satanic Oppression" by © Apostle Kimberly Daniels (pages 122-137).
"The Bible warns us that there will be days when right is called wrong and wrong is declared right. Isaiah 5:20 says:
"Woe to those who call evil good and good evil; who put darkness for light and light for darkness; who put bitter for sweet and sweet for bitter!"
He goes further by saying that some people exchange "darkness for light and light for darkness" and "put bitter for sweet, and sweet for bitter."
The scripture says that people who do these things are, 'wise in their own eyes" (v21). They justify the wicked for rewards, and take "away the righteousness of the righteous from him" (v23).
How can a man take away the righteousness of another man? This can easily be done through natural and spiritual legal attacks.
For example, a religious person with a legalistic spirit cane take away the righteousness of a your lady who is a new believer because of what she wears.
He takes away the righteousness in his own mind because of his ideas about what is righteous. In actuality, a righteous person's righteousness cannot be taken away. Our righteousness is in Jesus. It can only be taken away in the accusers mind.
I praise God that the Book of Isaiah says that a day will come when Jesus will execute judgement and justice on the earth (Isaiah 16:3). In the meantime, we must stand in truth; if we do, we will be delivered from the attacks of darkness.
The following scriptures will equip you against legal attacks from the enemy:
Isaiah 43:25 "I am He who blots out your sins for My own sake, and will not remember your sins."
Isaiah 43:26 "Cause Me to remember; let us enter into judgment; declare yourself, that you may be justified."
Isaiah 45:25 "In Jehovah shall all the seed of Israel be justified, and shall glory."
Isaiah 50:4 "The LORD Jehovah has given Me the tongue of the learned, to know to help the weary with a word. He wakens morning by morning, He wakens the ear to hear as the learned."
Isaiah 50:5 "The LORD Jehovah has opened My ear, and I was not rebellious, nor turned away backwards."
Isaiah 50:6 "I gave My back to the strikers, and My cheeks to pluckers; I did not hide My face from shame and spitting."
Isaiah 50:7 "For the LORD Jehovah will help Me; therefore I have not been ashamed. On account of this I have set My face like a flint, and I know that I shall not be ashamed."
Isaiah 50:8 "He is near who justifies Me; who will contend with Me? Let us stand together; who is master of My judgment? Let him come near Me."
As we meditate on these passages, Isaiah 59:4 is the icing on the cake. It warns that:
"None calls for justice, nor does anyone plead for truth; they trust in vanity and speak lies. They conceive mischief and bring out iniquity."
Isaiah relates activities of this sort to the spirit called "Cockatrice" Isaiah 59:5,
"They hatch adders' eggs and weave the spider's web; he who eats their eggs dies, and that which is crushed breaks out into a viper."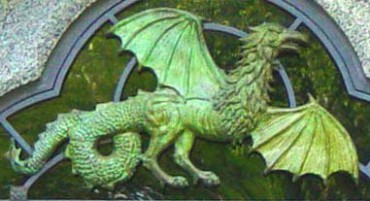 This spirit hatches eggs, and anyone who eats of these eggs dies. It also weaves spiders' web to entangle its prey, and from that which is crushed, a viper breaks out.
I have studied the cockatrice spirit for many years. My interest was raised when I found that Isaiah uses it as a spiritual analogy.
Apparently, this mythological creature was important enough for Isaiah to use to make his point. It is said to have a head, legs, and wings like a cock, but a body and tail like a serpent.
The danger of the creature is that it was said to have the power to kill a person who looked into its eyes, with one glance.
I believe that this is a spirit that needs to be dealt with when we are under legal attack. Let's look at the manifestations of the spirit spoken of in Isaiah 59:6-15,
Their webs will not become garments (v6).
They will not cover themselves with their works (v6).
Their works are works of iniquity (v6).
The act of violence is in their hands (v6).
Their feet run to evil (v7).
They rush to shed innocent blood (v7).
They think thoughts of impurity (v7).
Waste and destruction are in their path (v7).
They have never known the way of peace (v8).
There is no justice in their ways (v8).
They make crooked paths for themselves (v8).
Whosoever walks in their ways will not know peace (v8).
They cause justice to be far away (v9).
Righteousness will not overtake those in their way (v9).
Those in their way will look for light but only find darkness (v9).
They will wait for brightness but walk in darkness (v9).
They will grope like someone who has no eyes (v10).
They will stumble at noonday as in the night (v10).
They will be like dead men in desolate places (v10).
They will roar like bears and mourn like doves (v11).
They will look for judgement but there is none (v11).
Salvation will be far away (v11).
Their transgressions are multiplied before the LORD, and their sins will testify against them (v12).
Their transgressions will remain with them, and they will know their iniquities (v12).
They will transgress and lie against the LORD (v13).
They have departed from God (v13).
They speak of oppression and revolt (v13).
They conceive and utter words of falsehood from their hearts (v13).
Justice is turned backwards (v14).
Righteousness stands far off (v14).
Although truth has fallen in the streets, equity cannot enter (v14).
Therefore, truth fails (v15).
Those who depart from their evil become their prey (v15).
These are the manifestations of an antichrist system that is rooted in secular humanism. The mind-binding spirit that under-grids this demonic attack is the strongman called Cockatrice.
As men look into the eyes of this demon, they cannot see truth, right is perverted, and wrong is celebrated.
But there is good news – Isaiah 59:15 says that the LORD saw it and was displeased that there was no judgement!
How can the righteous prevail when the system is rooted in a corrupt system with no true judgement? Verse 16 gives the answer – it happens through intercession! Read Isaiah 59:16-21 (AMP):
"16 And He saw that there was no man and wondered that there was no intercessor [no one to intervene on behalf of truth and right]; therefore His own arm brought Him victory, and His own righteousness [having the Spirit without measure] sustained Him.
17 For [the LORD] put on righteousness as a breastplate or coat of mail, and salvation as a helmet upon His head; He put on garments of vengeance for clothing and was clad with zeal [and furious divine jealousy] as a cloak.
18 According as their deeds deserve, so will He repay wrath to His adversaries, recompense to His enemies; on the foreign islands and coastlands He will make compensation.
19 So [as the result of the Messiah's intervention] they shall [reverently] fear the name of the LORD from the west, and His glory from the rising of the sun. When the enemy shall come in like a flood, the Spirit of the LORD will lift up a standard against him and put him to flight [for He will come like a rushing stream which the breath of the LORD drives].
20 He shall come as a Redeemer to Zion and to those in Jacob (Israel) who turn from transgression, says the LORD.
21 As for Me, this is My covenant or league with them, says the LORD: My Spirit, Who is upon you [and Who writes the law of God inwardly on the heart], and My words which I have put in your mouth shall not depart out of your mouth, or out of the mouths of your [true, spiritual] children, or out of the mouths of your children's children, says the LORD, from henceforth and forever."
Even in corrupt systems of the world, the righteous prevail. The High Court of Heaven trumps the Supreme Court of the land.
The LORD has positioned godly people throughout the system of the world to fight for the things of His Kingdom. The abominations of courts, corrections, probation and parole, and law enforcement do not go unnoticed.
The LORD sees it all. According to their deeds they will pay. In the meantime, we must be labourers (with God) to stand in the gap against the injustices of the world. legal and political oppression is under our feet, but we must stand to put spiritual pressure on the powers that be, so that we can experience justice in our homes and in the streets of our cities.
Prayer Targets Against Legal Attacks:
Listed below are prayer targets which you can use against legal attacks.
Break the assignment of legal weariness.
Cancel the petitions of the accuser and command them thrown out.
Declare the councillors of the wicked incompetent.
Bind the Ball Peors of litigation.
Come up against evil judgements.
Hang the jury of darkness.
Petition the high courts of appeals (take it to the top).
Confess that the spiritual legal fees in your case have been paid off by the blood of Jesus.
Shut the traffic controlled by demonic gatekeepers and litigators.
Shine the magnificent light of Jesus Christ on every dark verdict.
Cancel the deals of conspiracies and confederacies from hell.
Bind and cast our every squatting spirit and trespassing demon.
Let the track record of your accusers bring shame on them.
Ignite the atmosphere of justice and righteousness.
Curse everything that called good, evil and evil, good (right, wrong and wrong, right).
Stand and declare your case before the Court of courts and the Judge of judges.
Confess that the angels of the LORD will stand against the demonic dominoes of lawsuits.
Confess that the enemy has no room in your life and has no case against you.
Come up against and remove every files in hell that is maintained against you ….
Release the spear of the LORD to penetrate the truth and overturn every lie against you.
Declare that the High court of Heaven trumps the Supreme Court of the earth.
Prophesy to the stairway to heaven and declare that the angels will bring what you need in your case and take away what is not needed.
Command the legal arrows of the enemy to become boomerangs and return to their point of origination.
Bind legal infractions and distractions with the gavel of God.
Declare that the vacuum of the LORD will pull all demonic litigation back into the vortex of hell.
Stand on your legal rights as a believer and confess that what Jesus did on the cross settles the matter and closes your case. Confess that you possess the Keys of David. What god locks up cannot be opened, and what He opens cannot be shut.
How to Deal with the Spirit of Litigation:
As I was in prayer about this chapter and how believers need to deal with the spirit of litigations, the LORD gave me these things.
Deal with:
Legal booby traps
The spirit of sabotage
Demonic entrapments
The entanglements of litigation
Defamation of character
Issues of libel
The spirit of lies,
Problems of slander
Demonic liability
Legal attacks, challenges and concerns
Squatter spirits
Trespassing spirits
False witnesses
Spirits that cause false incrimination
Demonic probation (freedom with strings attached)
Spiritual halfway houses (no freedom in your own home)
Dark counsel
Counsel of dark conspiracies
The counsel of hell
The counsel of the world
The counsel of the flesh
The seat of the ungodly
The counsel of the wicked
The parole board of hell
Demonic indictment
Demons of anti-appeal assignments against the righteous
Legal distractions
Legal torment
Legal oppression
Legal depression
Legal bondage
Legal soul ties
Legal old ties
Ancient spirits of legal infractions
Ancestral spirits of litigation
The python of legalism and legality
The Kosmokrator (god of this world) over legal darkness
The cloak of cosmetic systems that covers dark cases
The cloak that hides truth
The principalities that rule over legal jurisdictions and circuits
Legal attacks from IRS (and other organizes systems that promote persecution)
Financial litigation
Lawsuit snares and traps
The judgement of the Sadducees and Pharisees
The judgement of the council of 13
The judgement of the Illuminate
The judgement of the ungodly
The judgement of the unrighteous
The judgement of witches and warlocks
The judgement of familiar spirits and those who have been trusted but will testify against you.
Territorial spirits of litigation
Illegal jurisdiction and trespassing spirits
Unlawful enforcement of laws
Spirits that disrespect and defy the laws of God

Spiritual imprisonment
Demonic solitary confinement
The hoodwink spirit (mind-binding, blinding spirit)
Spiritual wickedness in high places
Dark thrones of authority
Usurpers of authority
Gods of revenge
Gods of backlash
Gods of retaliation
Princes of persecution
Princes of evil prosecution
Hung juries against the favour of the righteous
Cases settles against the righteous in the dream life
Demonic sentences in the dream life
The spirit of Judas that will sell our his/her clients
Personal lawsuits
Business lawsuits
Lawsuits against the ministry
Lawsuits on the job
Employment persecution and discrimination
Legal attacks against the mind
(Unlawful) lawsuits between believers
Spiritual lawsuits
The little foxes of litigation
The little leaven of litigation
Nitpicking legal infractions
Demonic archive litigation (old cases, old places, old people, old things)
Religious legalism
Legal recidivism
Dark dominions of litigation
The demonic threefold chord of no mercy, no grace, no justice (Angels of mercy, grace and justice…. be loosed in Jesus name!)
Clandestine agreements working behind the scenes
The influence of cults and the occult in the court system
The interference of witchcraft in your court system, which includes:

Voodoo/hoodo
Wicca magic
New Age interference
White magic, candle magic, black magic
Divinations
Santeria and Yoruba witchcraft
Sorcery and enchantment
Familiar spirits
Third eyes that rule over jurisdictions
Courtroom conjurers
Caging incantations and lay lines to assigned to court sessions
The empty-shell judge.
Theosophy
Theomancy
And every other kind of influence or manipulation of cases that brings negative judgements against the saints.
Closing Prayer:
Your assignments are broken forever! Every negative verdict settles in cases that concern the elect is over-ruled and appealed.

It is taken to the top of the stairway to heaven (the roche) and counted as null and void.

The High Court of Creation over-rules your decision. Your legal rights have been banned and rules illegal.

The judicial punishment of the Most High God is against you. If you are an enemy of Jesus Christ, you will reap the highest penalty in the Book of Life.

The agreement of life is working against you, and all darkness must flee!

Only a righteous decision can be made on behalf of God's anointed ones. Amen.
Conclusion:
Micah 6:8 says:
"He has shown you, O man, what is good;
And what does the LORD require of you
But to do justly,
To love mercy,
And to walk humbly with your God?"
Matthew 12:37 says that we are justified or condemned by our words. Idle words will follow us for the rest of our lives.
That which is high and esteemed among men is an abomination in the sight of God (Luke 15:16).
Romans 2:13 also says that we are not justified by hearing the law, but by being doers of the law. We are justified by faith (Romans 5:1) and by the blood of Jesus (Romans 5:9).
God is the one who justifies men (Romans 8:33) His Word is true, and every man a liar, that we might be justified in our sayings and overcome when we are judged (Romans 5:4).
If God is for us, who can be against us? (See Romans 8:31). Those God has predestines, He also called. Those He called, He also justified. Those He justified, He also glorified – in Jesus' name! (see Romans 8:30)."
---